Emergency Medical Science
Emergency Medical Science
The CVCC Emergency Medical Science curriculum is designed to prepare graduates to enter the workforce as paramedics. Additionally, the program can provide an Associate degree for individuals desiring an opportunity for career enhancement.
Emergency Medical Science (EMS) is an education in a branch of medicine that focuses on having a general knowledge in many other fields of medicine and the capacity to provide emergency care to critically ill or injured patients in order to stabilize them for further care. The professionals within this discipline are sought for many positions in the healthcare field, such as: ambulance services, flight crews, emergency rooms, urgent cares, doctor's offices, and more. The opportunities in emergency medicine are as diverse as the skills these professionals provide.
What's An EMT? Are They the Same As Paramedics?
There are three levels in the emergency medical field: Emergency Medical Technician (EMT), Advanced Emergency Medical Technician (AEMT), and Paramedic. Each level is a versatile and adept healthcare provider with an expanding set of skills and knowledge as students climb up the different levels. The primary difference between each level is the amount of education and the skills they are able to perform.
EMTs are the entry–level patient care provider. EMTs are the most common and are the first step in progressing in the field. The term "entry;" however, does not mean that they do not provide important interventions. This course will teach the most fundamental, but most critical skills and knowledge students will need to perform patient care. This course is the foundation to which the other levels are built upon. Students will be able to test for the both the state and national level certification upon completion. CVCC offers a curriculum course (college credit), a continuing education course (fee-waiver available), and an option for rising high school students..
AEMTs are the next step from EMTs. Advanced level care begins here with the capacity to perform higher level skills in airway management and drug administration. The skills and drugs learned in this program are extensions from the EMT course. AEMTs play are more integral part in patient care in most of the emergency medicine setting by being able to provide a higher level of care when needed. CVCC has a program that will culminate with a diploma and the ability to test for your AEMT certification.
Paramedics provide the most advanced level of care out of all three levels. They have the most amount of education and are able to perform a number of skills and drugs that far exceed the other two levels. They are trained to be team-leaders and work autonomously to make decisions about the patient's needs and carry out those decisions. Their education includes a large number of hours in the field to hone skills and become familiar with many facets of the healthcare field. CVCC has a proud history of offering an accredited Associate of Applied Science degree for those seeking to become paramedics.
How Does One Become an EMT, AEMT, or Paramedic?
Meet all the eligibility requirements and prerequisites for the chosen program.
Register for the desired course or program.
Attend and successfully complete the course or program.
Take and pass the state or National Registry test to obtain certification.
Once certification is obtained, students find employment in a variety of places and function as an EMT, AEMT, or paramedic.
If I'm Already a Paramedic, Can I Earn a Degree?
Yes. CVCC is offering an Emergency Medical Science Paramedic Advancement Certificate program for those who already have their valid paramedic credential. This program is mostly online and, after proving proficiency, students will be able to take a fewer number classes to earn their degree. The courses in the program are designed for professionals in the field and will offer advanced medical education and the option to take a management or trainer course.
STATISTICS FOR GRADUATING COHORTS
In accordance with the requirements set forth by our accrediting body, CoAEMSP, the CVCC EMS website must display the most current statistics for our graduating cohorts.
2017- 2021 Statistics 
Job Placement, Pass Rates, and Retention

| Year | Job Placement | First Time Paramedic Exam Pass Rates | Retention |
| --- | --- | --- | --- |
| 2021 | 100% | 80% | 42% |
| 2020 | 89% | 100% | 82% |
| 2019 | 100% | 100% | 43% |
| 2018 | 86% | 100% | 54% |
| 2017 | 100% | 100% | 69% |
Program Information
Program Options
Program Options
Emergency Medical Science, AAS
Emergency Medical Science Bridge Program, AAS
Emergency Medical Science, Health Science Therapeutic and Diagnostic Service Diploma
Emergency Medical Science Certificate
Emergency Medical Science Certificate Pathway
Please see the catalog for more information about the degree option in this curriculum.
Related Programs
Related Programs
Information
Information
Emergency Medical Science AAS

Emergency Medical Science (EMS)
An education in Emergency Medical Science (EMS) is one that focuses on having a broad medical knowledge and the capacity to perform advanced skills to assist those in need in a prehospital setting. The knowledge required to become a paramedic is vast as the patients they encounter could have a myriad of emergencies that will require advanced interventions.
The education received at CVCC will encompass a broad spectrum of topics from the medical field and provide the opportunity to apply the knowledge and practice advanced skills in a real world setting to prepare them for further education or entry into a job. This makes it ideal for any student seeking a profession in the medical field or even exposure to the medical field as a whole. CVCC's program is the first accredited EMS program in the state and since 1979 its graduates have gone on to have successful careers in emergency medicine, nursing, education, physician's assistants, and physicians.
A Different Education and A Different Experience
Topics are studied to a depth that will allow students to make decisions about patient care and critically think about many situations. The knowledge learned here can be applied to virtually any other healthcare career. Topics include:
Medical Emergencies
Trauma
Cardiology
Respiratory
Pediatrics
Obstetrics/Gynecology
Pharmacology
The clinical experience at CVCC's Emergency Medical Science program gives opportunities to students to apply and practice their knowledge in the real world setting by having them go to various off-campus sites. These will be more than just observations at local hospitals and EMS services, students will get hands on experiences delivering babies, intubating patients, administering drugs, and much more. Students will go to multiple sites, such as:
Emergency Room
Labor and Delivery Rooms
Neonatal Intensive Care Unit
Cardiac Cath Lab/Cardiac EP Lab
Mental Health Floor
Pediatric Doctor's Office
Anesthesia Rotation
Electrotherapy Lab
911 Ambulance Services
Prepared for the Future
In accordance with the requirements set forth by our accrediting body, CoAEMSP, the CVCC EMS website must display the most current statistics for our graduating cohorts.
2017- 2021 Statistics 
Job Placement, Pass Rates, and Retention

| Year | Job Placement | First Time Paramedic Exam Pass Rates | Retention |
| --- | --- | --- | --- |
| 2021 | 100% | 80% | 42% |
| 2020 | 89% | 100% | 82% |
| 2019 | 100% | 100% | 43% |
| 2018 | 86% | 100% | 54% |
| 2017 | 100% | 100% | 69% |
Pre-requisites
Students must successfully complete the following prior to admission into the program:
Current Emergency Medical Technician certification
Course Offerings
A new paramedic program starts every January and will finish in the following spring semester. Summer classes are included in the program and the classes are sequential, meaning that classes must be taken and completed every semester in order to progress into the next semester. Most classes are held on-campus at the Stephanie Lynn Gabriel Center for Prehospital Medicine and offered as day classes.
Accreditation
The Catawba Valley Community College Emergency Medical Science curriculum is accredited by the Commission on Accreditation of Allied Health Education Programs (CAAHEP) upon the recommendation of the Committee on Accreditation of Educational Programs for the Emergency Medical Services Professions (CoAEMSP).
To contact CAAHEP (http://www.caahep.org):
25400 US Highway 19 North
Suite 158
Clearwater, FL 33763
(727) 210-2350
To contact CoAEMSP (http://www.coaemsp.org/):
8301 Lakeview Parkway Suite 111-312
Rowlett, TX 75088
(214) 703-8445
Fax (214) 703-8992
Certificate to Degree
Certificate to Degree
For those who are already a paramedic but wish to obtain an Associate in Applied Science (AAS) in Emergency Medical Science, CVCC offers an accelerated degree that gives credit for previous work and education. Whether seeking higher pay, job advancement, or personal satisfaction, a degree can open up many new doors for the future. The majority of the courses in this program may be completed online, accommodating the schedule of those currently working in the field.
This special track was developed to facilitate a North Carolina or Nationally Registered certified paramedic in returning to school to obtain an Associate in Applied Science. The length of this course varies depending on the individual's experience and prior education.
Pre-requisites
In order to enable the most rapid completion of the CPA program the following prerequisites and/or admission requirements will be used:
Meet CVCC's institutional requirements for admissions as an EMS student.
Letter from EMS director confirming 1000 hours or more of direct patient care.
Provider and/or instructor cards for ITLS or PHTLS, ACLS or ACLS-EP, PALS or PEPP.
Valid North Carolina or National Registry Paramedic Certification.
Letter of reference from service's medical director attesting to the individual's competence in basic and advanced life support skills.
Once the criterion above has been met, the student will then be given experiential credit for 15 EMS courses. Students are given credit and do not need to pay for these courses.
Note: Advanced Placement requirement will be satisfied with documentation of 1000 hours or more of direct patient care.
Starting the Transition
Students should start by contacting the EMS department. CVCC accepts transfer credit for previous course work. The student may transfer and/or advance place up to sixty-five percent of the required course hours. This track will be highly individualized depending on any prior college credits by the student and his or her success with advanced placement scores.
The bridging process may be started at any time. Registration and classes will be based on the college calendar. Contact the EMS program for advising.
Advanced EMT (AEMT)
Advanced Emergency Medical Technician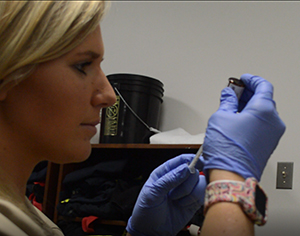 With the Advanced Emergency Medical Technician (AEMT) course students begin their journey into advanced level care by learning procedures and interventions that require much more extensive training. The knowledge gained through the EMT certification is expanded upon here. Through clinical time in the emergency room and on ambulance services, students will hone these newly acquired skills in order to enter the workforce as a competent and proficient advanced healthcare provider. The AEMT class runs 256 hours, which includes class time (didactic), lab time (psychomotor), and a separate clinical class where students spend time in the hospital and on the ambulances.
Pre-requisites
Students should have completed:
Current Emergency Medical Technician Certification
High School Diploma or equivalent
Proof or placement test demonstrating ability to perform post-secondary level math and reading.
Course Offerings
CVCC offers a path to earn the AEMT certificate through the EMS Health Science: Therapeutic and Diagnostic Service diploma program or through a Continuing Education class. The AEMT class is unique in that students must take the AEMT Clinical Practicum course at the same time. This clinical class has no set class times but requires students to go into the hospital and on the ambulance to complete the course. To discuss the opportunities and how to start, contact the EMS department at CVCC. Students will be guided through the courses and registration process to achieve the best possible path of success.
Contact Information
For any questions or advising, email the EMT program at ems@cvcc.edu.
Mandy Reavis
Administrative Assistant
Monday-Thursday
9:00 AM-1:00 PM
(828) 327-7000, ext. 4841
mreavis869@cvcc.edu
Emergency Medical Technician (EMT)
Emergency Medical Technician (EMT)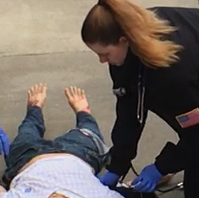 The EMT course provides an initial education in the world of emergency medical science. Introductory and general information in a variety of medical fields and how to perform the most basic, but critical, life-saving skills will be studied. The EMT course is a 228-hour course. The course includes a classroom portion (didactic) that presents necessary information about medical problems and treatments, a lab portion (psychomotor) where hands-on skills are practiced, and shifts on an ambulance for a field observation lab. Upon successful completion of this course, students will be eligible to test at the national and state level to earn the EMT certification, which allows students to operate and work as an EMT in such places as on an ambulance, emergency room, urgent care, or other places.
Pre-requisites
Students must:
Be at least 17 years of age on or before the course end date. Parental agreement is needed if younger than 18 years old at time of registration.
An official copy of your high school diploma or pass the RISE placement test with a score that deems the potential student as "college ready."
Course Offerings
CVCC offers two forms of EMT classes. Curriculum (CU) courses are typically day classes, and upon completion of the course, students are awarded college credit and the chance to test for the state and/or national certification. The Continuing Education course will not be awarded any college credit. However, registered students who are in good standing with an appropriate fire, rescue, or EMS agency are eligible for a fee-waiver and are eligible to take the state or national certification test. Both classes will be taught primarily in a seated classroom with some online work required.
Program Cost
Price varies greatly depending on type of class and current tuition rates. For the most up-to-date pricing, please contact the EMS/EMT program by email at ems@cvcc.edu.
Upcoming Classes
Technical Standards
Technical Standards
Emergency Medical Science (EMS) is a practice discipline with cognitive, sensory, affective, and psychomotor performance requirements. The following activities are examples of the kind of activities which a student in the EMS Program will be required to perform in order to successfully complete the program.
Requirements

| Issue | Standard | Example |
| --- | --- | --- |
| Critical Thinking | Paramedic students should possess critical thinking ability sufficient for clinical judgment. | Be able to prioritize the care of the critically injured or ill patient. |
| Interpersonal Skills | Paramedic students shall possess interpersonal abilities sufficient to interact with individuals, families, groups, etc. from a variety of social, emotional, cultural and intellectual backgrounds | Establish rapport with clients/patients and health care team members |
| Communication Skills | Paramedic students shall possess communication abilities sufficient for interaction with others in verbal and written form. | Provide verbal encode to medical control from the field and documentation of patient care |
| Mobility | Paramedic students shall possess physical abilities sufficient to move from room to room, maneuver in small spaces, stand and walk for extensive periods of time and lift average size adults with help. | Transfer patients on to stretchers, loading and unloading stretchers into the ambulance and moving about the scene to search and discover patients |
| Motor Skills | Paramedic students shall possess gross and fine motor abilities sufficient to provide safe and effective care. | Calibrate and use designated equipment, insertion of tubes, initiation of intravenous and intraosseous infusions, and administration of medications |
| Hearing | Paramedic students shall possess auditory ability sufficient to monitor and assess health needs. | Hear monitor alarms, emergency signals, cries for help and auscultate breath and bowel sounds |
| Visual | Paramedic students shall possess visual ability sufficient for observation and assessment necessary for care. | Observe patient/client responses to treatment, use of designated equipment, and assessment of patient |
| Tactile | Paramedic students shall possess tactile ability sufficient for physical assessment. | Perform palpation and percussion, assessment of skin vital signs.perform palpation and percussion, assessment of skin vital signs. |
| Weight Bearing | Paramedic students shall possess ability to lift and manipulate/move 45-50 pounds on a daily basis. | Position patients/clients, carry designated equipment |
| Cognitive Abilities | Paramedic students shall possess ability to be oriented to time, place and person, organize responsibilities, make decisions, and function effectively in critical situations. | Assess client/patient complaints and implement appropriate plans for care. |
| Occupational Exposures | Paramedic students may be exposed to communicable diseases and/or body fluids, toxic substances, medical preparations, and latex. Students shall use appropriate precautions at all times. | May be assigned a client/patient with a communicable disease and shall provide total care using universal precautions. |
| Driving Skills/Abilities | Paramedic students must have a valid NC Driver's License in order to complete their coursework at CVCC | Safe driving techniques will be taught to safely transport patients. |
Please note: Examples are not all inclusive.
If you have a disability and need accommodations, please contact the Counselor/Students with Disabilities Program at least 72 hours in advance at (828) 327-7000, ext. 4222 or accommodations@cvcc.edu.
Career Outlook
For questions regarding admissions requirements, contact:
Admissions
ems@cvcc.edu
 
CVCC Paramedic Program - Student Testimonial - Sami Alkoutami