Career Resources
Resources are available to students and alumni.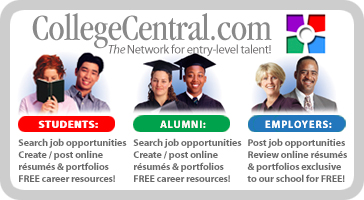 » College Central Network: Where Job Seekers, Employers, and Opportunities Connect. Create, upload and update your resume, portfolio, cover letter, and more. Submit them to recruiters seeking qualified job candidates like you. Students and alumni, sign up now.
» Career Coach is a FREE, online resource that can help you explore possible career options, learn about local employment trends and wages, help you determine your educational goals at CVCC and even assist you in creating a resume for your job search!
Are you overwelmed about your career choices? Do you need help deciding on a major? FOCUS 2 guides students through reliable, intuitive career self assessment. Current Students can get started and explore occupations, programs, or majors. Currents student can get access and find out more on the MyCVCC Portal.

» Perfect Interview™ is an innovative learning tool that you can use to enhance your job interviewing skills and develop an edge over the competition.