CVCC honors 847 students during 2022 Commencement Ceremony
The crowning moment for many Catawba Valley Community College students took place on Friday during the college's spring graduation ceremonies held at the Tarlton Complex on main campus.
06/05/2022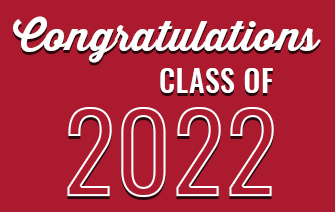 » View 2022 Commencement Videos
A total of 847 CVCC students received either an associates degree, diploma or adult secondary credential at the ceremonies, which started at 9 a.m. and continued until 4 p.m.
Kaylan Callaway was the first of the graduates to cross the stage on Friday, receiving her Associate in Applied Science degree. She finished her studies in Cosmetology and plans to work at a salon.
"It's nerve-racking, and it's exciting," Callaway said of being the first official CVCC graduate during the ceremony. 'I'm just ready to graduate. I'm glad that I finally got through everything. I'm really proud of myself."
This year's graduation ceremony format, which had students sign up for a 30-minute time slot during the eight-hour event, allowed graduates to cross the stage while their family members walked in front of the stage and follow their journey to receiving their CVCC diploma.
Callaway enjoyed the non-tradition graduation ceremony format.
"I was expecting it to be like high school graduation where everyone sits down and everyone watches," she said. "I kind of like this better because there's no as many people. The people you want are there."
Johnny Hull received his Adult Secondary degree — becoming the fifth member in his family to receive a degree from Catawba Valley Community College. He joins his wife Rita, sons Dylan and Samuel and daughter Azra as an alumni now of CVCC.
"I'm pretty proud because I'm number five out of my family. My wife graduated the same way. Two of my sons graduated the same way. My daughter graduated the same way. They encouraged me to do it, and I finally did it."
Hull is thankful for his time at Catawba Valley Community College, and he's already enrolled in supervisor courses to continue his education.
"The teachers here that helped me really took the time. It was personal," he said. "It wasn't like you were given books and told 'here you go.' Everyone in my class got that individual help when they needed it. Usually that doesn't happen. I want to thank CVCC for the opportunity and the great service they provide for the community — both for adults and younger people who need an education. I really appreciate them. I'm going further now."
A total of 31 business and industry partners also had recruitment booths at the ceremony — allowing new graduates to interact with their potential future employers.
"Friday was yet another great day for Red Hawk Nation with 847 students joining our ranks as alumni," said CVCC President Dr. Garrett Hinshaw. "We are proud of each and every one of these individuals for their hard work and dedication to their studies and a commitment to excellence. We look forward to seeing what they will achieve in the future."
# # #