CVCC welcomes NCCCS leaders to visit IDD pilot program
HICKORY, N.C. — Catawba Valley Community College welcomed members of the North Carolina Community College System (NCCCS) to campus this past week to take a look at the newly launched Intellectually and Developmentally Disabled (IDD) pilot program.
02/08/2023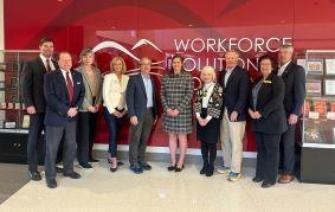 CVCC was selected by NCCCS this past August as one of two community colleges in the state to start this IDD pilot program, which will help develop Best Practices for IDD programs for community colleges across the state. 
"I'm honored to have led as the Lead college for this IDD pilot, and I'm deeply grateful to have such important people at the state level advocate for our programming to improve services to the IDD population," said Dr. Chanell Butler-Morello, CVCC's Chief of Staff. "Students with intellectual and developmental disabilities make fantastic employees and valued citizens, and it is wonderful that Senator Michael V. Lee and our Community College System Office leaders see that as well."
Among those in attendance for the visit were NCCCS Interim President Dr. William Carver; Senator Michael V. Lee, Co-chair for Education and Higher Education in the North Carolina Legislature; and Bill McBrayer, Vice-Chair for the North Carolina State Board of Community Colleges.
Those in attendance toured CVCC's Adult Basic Education (ABE) program on East Campus before visiting the Workforce Solutions Complex on main campus.
Following the tour, members of Catawba Valley Community College's IDD implementation team gave a presentation and discussion about the pilot program.
"The ABE Academy staff, students and parents greatly appreciated the legislators, system office staff and system office board members for taking the time to visit our program," said Vickie Vinson, CVCC Adult Basic Education Coordinator. "More importantly, we appreciate the emphasis and support they are placing on improving and expanding educational and vocational opportunities to adult students with intellectual and developmental disabilities. It was exciting to share how far we have come and even more exciting to discuss the future of our program and programs like ours across the state."
Since 2017, Catawba Valley Community College has maintained an ABE career pathway as well as an extremely successful Employ-ABILITY Pathway — helping to prepare ABE students in finding the right types of jobs following their completion of the ABE program.
CVCC's Adult Basic Education Academy currently consists of 46 students on both main campus in Hickory and the Alexander Center for Education in Taylorsville. Each of these students participate in the Working Smart Program and take courses in employability skills, computer literacy, digital literacy, hospitality & tourism, marketing and other vocational classes through Workforce Development and Human Resources Development.
As a result of the IDD Pilot Project, CVCC has been able to expand its existing classes to include opportunities for credentials, certifications, pre-apprenticeships and apprenticeships in specific program areas, including high-demand careers such as manufacturing and early childhood. 
For more information on the Adult Basic Education Academy at Catawba Valley Community College, please visit https://bit.ly/3Qh24l7
# # #