Grant recipients announced through CVCC's Everyday Entrepreneur Venture Fund
Three grant recipients have been announced through CVCC's Everyday Entrepreneur Venture Fund, a program to assist CVCC students and recent grads who want to start a business by providing a grant for a portion of their start up.
01/26/2021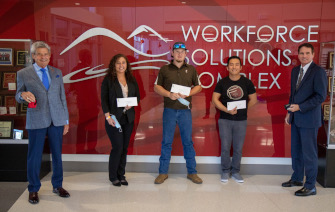 Three grant recipients have been announced through CVCC's Everyday Entrepreneur Venture Fund, a program to assist CVCC students and recent grads who want to start a business by providing a grant for a portion of their start up.
Brandy Grigg, Fong Xiong and Evan Harris were all presented with their grant this past week during a small ceremony at the Workforce Solutions Complex on the campus of Catawba Valley Community College.
All three grant winners took part in the CVCC Everyday Entrepreneur Venture Fund (EEVF) program, which was created through the National Association for Community College Entrepreneurship (NACCE) to help students and recent graduates build new businesses through community college resources and sustain their success.  The program provides training, seed funding, and business mentoring.
Funds for the program provided by NACCE were matched through the CVCC Foundation, Inc.
"Brandy, Fong, and Evan earned their grants," said Jeff Neuville, Director of CVCC's Small Business Center. "They went through an eight-week entrepreneurship program and developed strong business plans with the feedback of our CVCC team. They made a great impression on our funding committee, and we look forward to continue helping them as their businesses grow and contribute to our local economy."
Grigg is using her grant to help start Brandelle Designs, a creative marketing and advertising agency focused on graphic design. Her company's goal will be to deliver her client's brands message by simply defining their vision through creative and strategic design.
Grigg was shocked to be chosen as one of the three recipients.
"I just graduated from CVCC in May, and I decided to go into this business full time," she said,. "I was still fairly new in everything that I was doing. When I applied in August and was selected for the program in September, it was really surreal. It was really exciting. I could sit down and figure out what I want for my business and how I could grow from here. The program is really great. It helps you to understand what you're looking for as an entrepreneur. It changes your mindset."
Xiong is using his grant to help his business — Fong's Build & Fab, which is a custom automotive repair and fabrication shop in Conover that specializes in Japanese imports with a focus in motorsports. 
"With this funding, I'll be able to purchase equipment, such as more equipment to fabricate," Xiong said. "I graduated from the automotive about 10 years ago. I've been in the automotive repair sector for a while now. I have a lot of that equipment already, but I needed funding for fabrication. I came back for welding. With this money, I can buy equipment and offer more services. I would like to thank Jeff (Neuville), Christy (Lefevers), Darcie (Tumey) and all of our advisors. They prepared us for this program. They are our cheerleaders. They give us a lot of input and help along the way. I am really happy we had them as our mentors..
Harris' grant money is going towards his business Evan's Outdoors — mobile welding and in-shop business which provides high-quality repairs, restoration and fabrication of metal-based items.
"This funding will help me a bunch," Harris said. "Instead of me waiting, taking on jobs and making money and getting things once I have the money saved up this is going to help me get bigger jobs and quicker turnaround. I was surprised. Starting out with nothing and working my way up, I said I'll try it and see what happens. I was really shocked when I got a notice saying I was in the program and received this funding."
Participants in the program worked closely with an internal CVCC team made up of Christy Lefevers, Darcie Tumey, Jeff Neuville and Jennifer Jones to develop business plans and budgets.
Grants were determined by a funding committee, which included Gary Muller (CVCC), David Sain (CVCC Foundation), Landon Lane (local entrepreneur), Lindsey Keisler (The Chamber of Catawba County), Sabrina Cook (local business owner), David Williams (local business owner and Hickory City councilman), Luke Walling (local entrepreneur and business owner), Jerry Gaillard (local business person), and Stephanie Kissell (local entrepreneur).  
The funding committee had the opportunity to review each candidate's business plan and financial plan and participate in an interview session to ask questions about the plans. 
"The EEVF Funding Program is a wonderful means to assist our students to start a new business upon graduation," said CVCC Foundation Chair David Sain. "The students are required to present business plans, including sales forecasting projections, operating cost, margin generated to cover expenses and profit. The meetings last a minimum of one hour each presenting to a selected group of business leaders. It is very rewarding to see the students do an amazing job during their presentations." 
A spring EEVF cycle open to CVCC students and recent graduates opens next month.
For more information on the EEVF program, please visit the NACCE Everyday Entrepreneur Venture Fund Piolt Program page.
Photo: From left, CVCC Foundation Chairman David Sain; Brandy Grigg, owner of Brandelle Designs; Fong Xiong, owner of Fong's Build & Fab; Evan Harris, owner of Evan's Outdoors; and Gary Muller, Dean, CVCC School of Workforce Development and the Arts.
Note: The photograph accompanying this article was taken in full recognition of COVID-19 safety protocol, and all participants voluntarily removed their masks for only a few seconds for the purpose of having the photograph taken.
# # #