Mechatronics classes start June 15 at CVCC's Alexander Center
The Catawba Valley Community College Alexander Center for Education is currently enrolling for its next Mechatronics Class.
05/24/2022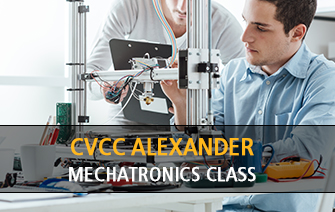 The class starts on June 15 and continues through Oct. 25. It takes place Tuesday and Thursday nights from 5-8 p.m.
Mechatronics combines the knowledge of mechanics, electricity, electronics and computers into an integrated hands-on, skills-based curriculum for employees working in maintenance, operations and automation. 
CVCC's Mechatronics program is designed around completion of three learning segments, each with a third-party certification available upon completion. These segments include Mechatronics Fundamentals, Mechatronics Controls and Advanced Mechatronics.
Graduates of each mechatronics class earn a Mechatronics Technician Certification and are eligible to sit for third-party certification exams.
For more information, contact Mechatronics Instructor and Program Coordinator John Hanigofsky at 828-327-7000, ext. 4273.
# # #