Rozzelle joining Rays; McDonald to lead Red Hawks in 2022
The change of a calendar year from 2021 to 2022 will mark the start of a new era for the Catawba Valley Community College baseball program.
01/06/2022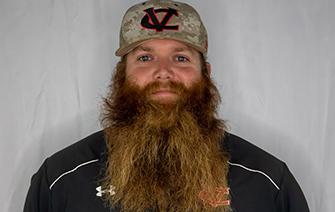 After eight seasons, Red Hawk head baseball coach Paul Rozzelle is stepping down from his position, pursuing the path of professional baseball as a minor league hitting coach with the Tampa Bay Rays organization.
Rozzelle, who surpassing mentor Frank Pait last season as the winningest coach in program history with 228 wins, expressed gratitude on a social media post announcing his decision to leave Catawba Valley.
"For close to 12 years, Catawba Valley has been home," Rozzelle said. "Every day has been a blessing that I cannot begin to describe. Coach (Frank) Pait took a chance on me and changed my life. For that, I will never be able to repay him. Every single player that has put on the 'CV' has impacted this program and myself in more ways than one. It is only because of them that we achieved the level of success we have had. They have helped me grow as a coach and as a man and I am forever grateful for their time spent here."
Catawba Valley Community College President Dr. Garrett Hinshaw offered his congratulations to Rozzelle on social media.
"Thank you for building an amazing program," Hinshaw said on Twitter. "You have made a difference for the lives of many of our current and past Red Hawks. You will be missed greatly in Red Hawk Nation, but we wish you the very best in the next chapter of your coaching career."
Red Hawk Athletic Director Nick Schroeder is thankful for Rozzelle and all that he gave Catawba Valley baseball during his tenure.
"I am so proud of Paul and the opportunity he has has earned to chase a career in professional baseball," Schroeder said. "Over the past eight years, Paul has built one of the premier junior college programs in the nation. With his student-athlete first focus, he has seen the GPA and graduation rates rise each year. He has also had more players signed by four-year school than any other coach in CVCC history. I cannot wait to see what Paul does in the future of professional baseball, and this is truly a testament of the NJCAA providing opportunities for all individuals involved."
Replacing Rozzelle heading into the spring 2022 will be Marshall McDonald, a former Catawba Valley baseball alumni and assistant coach who returned to the Red Hawks this past summer. 
As a player, McDonald was a part of the inaugural Catawba Valley baseball team in 2010, earning first team All-Region honors after blasting out a then-record 15 home runs.
After graduating from Montreat College in 2012, McDonald returned to CVCC, spending three seasons as an assistant coach for the Red Hawks from 2014-17. During the 2016, McDonald worked with Red Hawk hitters, helping them re-write the offensive record books in several categories, including on-base percentage (.424), runs scored (415), doubles (126), home runs (48) and RBI (362).
The Red Springs, N.C. native also has coaching experience at Presbyterian College (2017-18) and Montreat College (2018-21) and on the summer collegiate baseball scene with the Statesville Owls (2015), Lenoir Oilers (2016), Lexington County Blowfish (2017-19) and Edenton Steamers (2020-21).
McDonald is excited to lead the Red Hawks baseball program where he still ranks second on the career home run list.
"My number one focus is the players and their success and future," McDonald said. "I want to do my best to just continue the success that Paul has carried over the last seven years. Those are shoes that I cannot fill. I just hope that we can keep progressing on the steps that he established. This program means more to me than anything. I want to honor the program by the product we put out on and off the field. It will be a fun spring for the 2022 Red Hawks."
Schroeder believes McDonald is the perfect fit to lead the Red Hawks on the diamond moving forward.
"Marshall is a great person to take over the coaching for this spring season," Schroeder said. "As an alumni of the program, he brings a multitude of experience from professional and collegiate baseball. His love for CVCC will help in this transitional period and I know he will continue with the success our program has had."
McDonald's first game as Catawba Valley head baseball coach will take place on Sunday, Feb. 6 in a road doubleheader at USC Salkehatchie. A full schedule of games is set to be released in the near future.
# # #