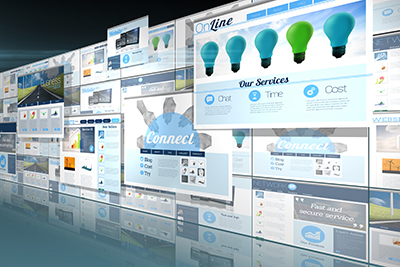 The CVCC Advertising and Graphic Design Program is designed to provide students with the knowledge and skills necessary for employment in the graphic design profession, which emphasizes design, advertising, illustration, and digital and multimedia preparation of printed and electronic promotional materials. Our creative learning environment features over 60 Mac computers located in three student labs. Our open concept floor plan includes collaborative workspace and a student lounge to facilitate a creative environment.
Students will be trained in the development of concept and design for promotional materials such as newspaper and magazine advertisements, posters, folders, letterheads, corporate symbols, brochures, booklets, preparation of art for printing, lettering and typography, photography, and electronic media.
Graduates should qualify for employment opportunities with graphic design studios, advertising agencies, printing companies, department stores, a wide variety of manufacturing industries, newspapers, and businesses with in-house graphics operations.
For more information about the CVCC Advertising and Graphic Design Program, please contact one of our faculty members.
Please see the catalog for more information about the degree option in this curriculum.
Program Options
Advertising and Graphic Design, AAS
Advertising and Graphic Design, High School Pathway
Contact Information
Jennifer Cobb
Program Director
(828) 327-7000, ext. 4020
jcobb@cvcc.edu
Opportunities
Opportunities exist for creative professionals, both locally and nationally, within a variety of companies:
Large Corporations
Small Businesses
Design Studios
Ad Agencies
Publishers
Printers
Internet Service Providers
Animation Firms
Production Houses
Fashion Industries
Entertainment Groups
Sports Teams
Freelance
Graphic Designers are involved in designing advertisements, logos, magazines, books, web pages and multimedia design, desktop publishing, digital video editing, and computer animation.