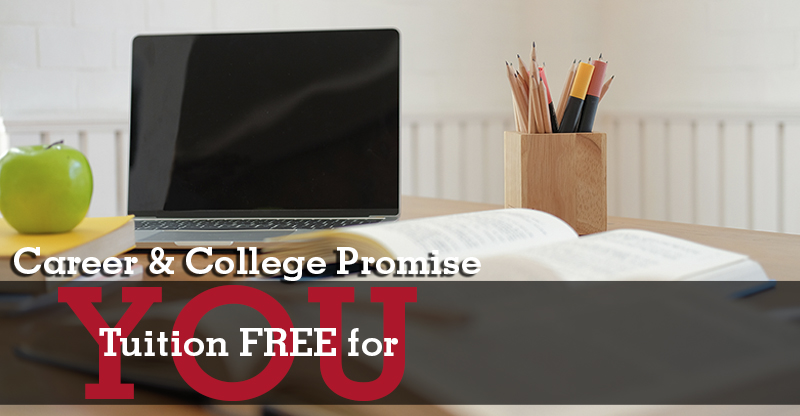 CCP Information for New Students and Parents
Overview
North Carolina high school programs formerly known as Huskins, Learn and Earn Online (LEO), and Dual Enrollment are now combined into one--Career and College Promise (CCP). CCP gives qualified North Carolina high school junior or senior students the opportunity to pursue these options–tuition free!
The Career and College Promise (CCP) Program allows qualified students to be enrolled in high school and earn tuition free college credits at the same time. Students can earn college credit that can be applied to an Associates in Arts, Associates in Science, Associates in Engineering, or an Associate Degree in Nursing that can then transfer to all public universities in North Carolina, as well as many private colleges or universities. Students can also choose to earn tuition free credits in the many technical careers offered at CVCC. CVCC offers College and Career Promise classes at all local high schools. Students may take classes on their high school campus during their first or third block. (All course offerings are contingent on sufficient enrollment.)
Career and College Promise is available to eligible high school students through a partnership among the Department of Public Instruction, the NC Community College System, the University of North Carolina system, and many independent colleges and universities. Please review official CCP documents and resources that have been published by the NC Community College System.
CCP provides high school students the following ways to advance post-high school success
Career and College Transfer Pathways
Career Technical Education Pathways
To learn what pathways are available within each of the these areas, please visit the CCP Pathways page.
CCP Eligibility
For more information about who is eligible for CCP, please visit the Who's Eligible for CCP? webpage.
Campus office hours vary near/during holidays. Please call ahead to avoid disappointment. (828) 327-7000, ext. 4216
For more information, contact:
Sarah McBride
CCP Coordinator
smcbride@cvcc.edu
(828) 327-7000, ext. 4594
Fax: (828) 624-5208

Jill Hypes
CCP Facilitator
jhypes190@cvcc.edu
(828) 327-7000, ext. 4426
Fax: (828) 624-5208