New CVCC Alert App. Download it now.
The new CVCC Alert App will provide immediate notifications to campus alerts, inclement weather and other emergency information. The app is free and available online at Google Play or Apple Store.
| | | |
| --- | --- | --- |
|    | | |
| Or scan the QR code with your mobile device. | | |
|   | Google Play QR Code | Apple Store QR Code |
Instructions for Android and Apple Phone:
Go to the appropriate app store for your device, either the Google Play or the Apple Store, or you may just scan the appropriate QR code above and follow the instructions.
Search for the CVCC Alert App. Once you have located the CVCC Alert App, download the app to your phone.
The app will then display a dialogue box asking if you want to allow notifications, answer the question allow.
Note: If you have previously downloaded the app from either store, please make sure it is up to date, as two updates have already taken place in each store.
If you have a cell phone that is not compatible of downloading the CVCC Alert App from the Apple Store or Google Play then email your name, cell phone number with area code and your cell phone providers name cdeal@cvcc.edu.
Do not confuse the CVCC Alert App with the CVCC Go App. The CVCC Go App will not get your immediate notifications of emergencies. See the two different Icons below.
| | |
| --- | --- |
| CVCC Alert App | CVCC Go App |
| | |
CVCC Alert App Demo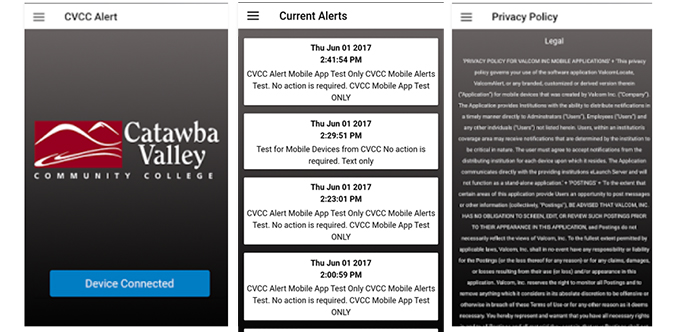 It is the goal of the office Safety, Security and Health to provide a safe environment for out staff and students. As a result, we have installed a new notification system app.
If you have any questions contact Clyde Deal at (828) 327-7000, ext. 4573 or by email at cdeal@cvcc.edu.