RIVERA NAMED SCHOLARSHIP RECIPIENT THROUGH CVCC FOUNDATION, INC.
HICKORY, N.C. — Catawba Valley Community College EMS student Heather Rivera has been named the recipient of the Mended Hearts of Hickory Chapter 408 Scholarship through the CVCC Foundation, Inc.
03/19/2020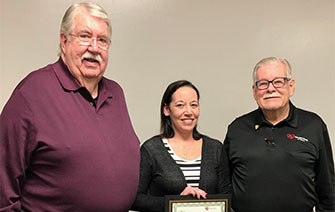 Rivera was presented the scholarship during a breakfast hosted by the CVCC Foundation, Inc. recently for members of Mended Hearts and the EMS program at Catawba Valley Community College.
The Mended Hearts of Hickory Chapter 408 scholarship is established to provide scholarships to deserving students enrolled at Catawba Valley Community College with interest in cardiac care.
Rivera, a mother of two who has spent time in the U.S. Army Reserve and has also served as a CNA, surgical tech, medical assistant and phlebotomist, said receiving the scholarship was "quite an honor."
"I realize this scholarship could have been chosen," she said. "I greatly appreciate the opportunity to participate in such a wonderful program that encourages students in this field, and I look forward to volunteering with Mended Hearts of Hickory."
In order to qualify for the Scholarship, students had to meet several criteria, including acceptance into a CVCC's Health Program, have a career preference to service in cardiac care, and state their need for financial assistance.
This is the second scholarship presented to a CVCC student by Mended Hearts — a national and community-based non-profit organization that offers the gift of hope to heart disease patients, their families, and caregivers.
The purpose of Mending Hearts is to provide support and hope for patients and caregivers who have had heart-related events. Frye Regional Medical Center supports and hosts the meetings of Mended Hearts of Hickory Chapter 408.
More nursing scholarships are planned to be awarded by Mended Hearts with help through the CVCC Foundation, whose mission is to foster and promote the growth, progress and welfare of Catawba Valley Community College. 
For more information on establishing a scholarship or making a gift, contact Teresa Biggs, executive director of the CVCC Foundation, Inc. at 828-327-7000, ext. 4288 or email tbiggs@cvcc.edu.
From left, Bobby Dellinger, Mended Hearts President; Heather Rivera, scholarship recipient; and Bill Wiggs, Mended Hearts Scholarship chairman.
# # #