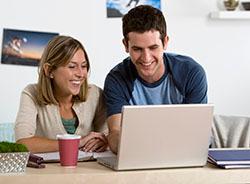 This course provides employability skills training for unemployed and underemployed adults. The Employability Lab offers a variety of services, including:
Students can choose to prepare for the NC Career Readiness Certificate. Students can take the KeyTrain pre-tests, and then will work on the online skill-building lessons to prepare for success in taking the WorkKeys assessments in Reading for Information, Applied Mathematics, and Locating Information. Students who would like to take the WorkKeys assessment will need to sign up for one of the scheduled WorkKeys sessions. (These sessions are not part of the Employability Lab's schedule).
This course may be linked either at the beginning of ending of an occupational course.
Students can choose to build the "perfect" resume.
Students can choose to search for job openings on NCWorks Online or other job search sites.
Note
This course is open-entry/open-exit during the lab operating hours. Also, students cannot be enrolled in two lab sessions at one time.
Note
The cost for the WorkKeys test to obtain your NC Career Readiness Certificate is $45.00

Course Learning Objectives:
Students will gain an understanding of the Career Readiness Certification
Students will learn skills to assist them in successful completion of the Career Readiness Certification
Students will obtain job seeking skills
Students will learn job keeping skills
Students will take a pre-test to demonstrate competency in Workplace documents, Graphic literacy, and Applied Math.
New technology awareness to create your custom career tools
Gained an understanding of the importance of a resume
Gathered necessary dates, information, and documents to complete a resume
Identified appropriate references for a resume
Accurately completed a resume and cover letter
Successfully completed an online job application
Employability Lab - Day Open Entry East Campus

| Dates | Days | Time | Location |
| --- | --- | --- | --- |
| January 9 - May 9 | Wednesday and Thursday | 1:00 PM - 5:00 PM | East Campus Room 1046 |
Employability Lab - Fall - Day Open Entry Alexander Campus

| Dates | Days | Time | Location |
| --- | --- | --- | --- |
| January 8 - May 9 | Tuesday and Thursday | 8:30 AM - 12:30 PM | Alexander Center (ACE) |
Contact Information
For more information, contact:
Tammy Buff
(828) 327-7000, ext. 4819
tbuff@cvcc.edu