Tarlton Complex
The CVCC Tarlton Complex host our Athletic games and training. The complex is also reserved for many other events that include business, sports, professional or educational meetings, trade shows, conferences, and entertainment/civic events.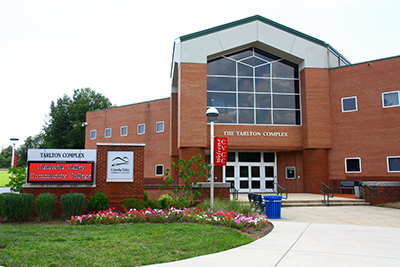 Catawba Valley Community College's Tarlton Complex was designed to accommodate various types of meetings, programs and recreational activities. When not in use by the College, the purpose of the facility will be to enhance public offerings within the community. The college reserves the right to schedule off-campus events and welcomes inquiries from the general public.

» See all Tarlton Complex upcoming events
Specialized Inside Space
The Tarlton Complex is on the college's main campus in Hickory, NC. The college is located on US Highway 70, with a rear entrance from Startown Road.
The building includes 63,778 square feet, with 176 dedicated parking spaces and 500 nearby parking spaces. The main floor arena includes a fully operational basketball or volleyball venue with seating for 2,100 using bleachers only, or 2,800 with event-style seating. There are more than 30,000 square feet of display area floor space. In addition, the arena includes a fully equipped stage with dressing areas. A Neoshock running track circles the arena on the second floor.The building also includes four classrooms for breakout events, a catering/concession area on both levels, a fully equipped weight room and an aerobics studio.
Other Building Amenities
The building is fully handicapped accessible. It also includes WiFi availability, a state-of-the-art internal public address and sound system, portable spotlights, and a press box on the upper level overlooking the main arena.
Heavy equipment and vehicle entrances are available. Portable stage additions and audio-visual equipment are available.
Availability to the Public
Catawba Valley Community College is a comprehensive, public community college. The needs of the college will be considered first in scheduling all college facilities. However, it is anticipated that the facilities will be available for use by other groups at many different times.
A rental fee is charged for use of the facilities to defray the cost of building maintenance and operation. Contact the college as soon as possible to reserve these facilities--scheduled on a first-come, first-served basis.
For further details about reserving space in the Tarlton complex, please email Rebecca Jernigan at rjernigan@cvcc.edu with your contact information, organization sponsoring event, dates of interest, details on type of event and how many expected to attend.