"Ping's Studio", Hickory Museum of Art Exhibit, Produced by CVCC Alumni
Two CVCC Alumni bring their artistic talents to the Hickory Museum of Art through immersive exhibit.
08/22/2023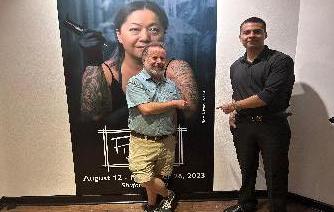 HICKORY, N.C.— Two CVCC Alumni bring their artistic talents to the Hickory Museum of Art through the immersive exhibit, "Ping's Studio".
The art exhibit, which opened on August 12th, displays the work of professional tattoo artist Ping Senesombath, founder of "Tattoos By Ping", and Pablo Becerrill, founder of "PxL Photography".
The exhibit is a behind-the-scenes look at creative designs and will have "living statues" who display Ping's tattoos so that visitors can see her original work in-person.
Prior to opening her business, Ping was a 2015 graduate from the CVCC GAIT program (currently the Advertising and Graphic Design program), and she holds positive memories from her time at the college. She credits the GAIT program with providing the necessary structure that helped her put her thoughts and plans in line, especially as she continued to produce new projects outside of the program.
She also appreciates the training she received under her CVCC instructors, whose patience and learning style accommodations allowed her to excel. "This has been a great foundation of my growth in art creation," Ping says. "The program also influenced my way of analyzing the purpose of the project at hand, [so I can] convey the message as clearly or objectively as I wish."
Pablo, Becerrill, whose photography will also be on display at the museum, graduated from CVCC's Photographic Technology program in 2022. As a local who grew up visiting the museum, seeing his photography on display at the Shuford Gallery is something he is both excited and honored to witness.
"I never expected to be [featured] in a museum in my life," Pablo shares. "I got to watch [the exhibit] from where it started to what it ended up being, along with the opportunity to work with Ping."
Pablo appreciates collaborating with Ping because, although the artists work in different fields, they encourage each other to grow their talents and build their portfolio. Ping and Pablo both hope that this exhibit serves as a source of inspiration for any budding artists or creative professionals.
Joe Young, Director of the Photographic Technology program at CVCC, visited the HMA exhibit as soon as his former student Pablo shared the news that his work was featured.
"I was very impressed with how well their collaboration created such a powerful exhibit," says Young. "This made me very proud of working at CVCC, and alumni like [Ping and Pablo] are the reason I am a teacher. They prove that education, perseverance, and believing in yourself does pay off, and I hope their exhibit will inspire others to do the same."
"Ping's Studio" exhibit is located at the Shuford Gallery inside the Hickory Museum of Art and runs from August 12th—November 26th, 2023.
 For more information about the Photographic Technology program and the Advertising & Graphic Design program at CVCC, please contact Joe Young at jyoung@cvcc.edu or Dr. Hope Carroll at mcarroll418@cvcc.edu. To learn more about Ping's Studio exhibit, visit the HMA webpage at https://www.hickoryart.org/exhibitions/ping.
Pictured Above: Joe Young, CVCC Director of Photographic Technology, and Pablo Becerrill ('22), featured artist, stand at the front of "Ping's Studio" exhibit.
# # #