Bluewater Logistics LLC, Gulfstream Shippers Association named title sponsors for Red Hawk Golf Tournament
Bluewater Logistics, LLC and the Gulfstream Shippers Association are the title sponsors for the 2021 Catawba Valley Community College Golf tournament, which is set for Monday, Sept. 20 at Catawba Country Club.
09/12/2021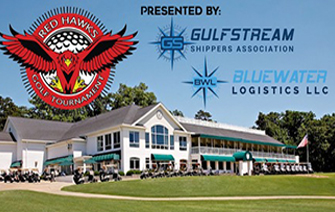 "Our companies felt compelled to sponsor this annual event, which is the primary fundraising effort for funds that specifically support all
of the athletic teams at CVCC," said Freddie Davis, CEO for the Gulfstream Shippers Association. "Currently, North Carolina prohibits two-year educational institutions from using state funds to support an athletic program. CVCC, however, still strives to maintain a high level of competition. The funds we raise collectively during these golf tournaments provide significant assistance in continuing the financial stability and competitiveness of the Red Hawks athletic department."
CVCC President Dr. Garrett Hinshaw is thankful to both Bluewater Logistics LLC and the Gulfstream Shippers Association for their support of Red Hawk student athletes.
"Our title sponsor for our annual Red Hawk Golf Tournament has a long history of supporting this region," Hinshaw said. "CEOs Freddie Davis and Tiffany Bowman understand the return on investment when their businesses make their support local. We are honored and thankful for both Bluewater Logistics LLC and Gulfstream Shippers Association's support of Red Hawk Nation."
B
luewater Logistics LLC has more than 151 years of experience in the home furnishings and textiles Industry, and the company's goal is optimizing delivery of products to their customers.
"
It is with great pride that Gulfstream Shippers Association and Bluewater Logistics announce our presenting sponsorship of the 2021 edition of the Red Hawk Golf Tournament," said Tiffany Bowman, CEO of Bluewater Logistics. "Since 1958, CVCC has been dedicated to the continuing education of our youth. Over the past 62 years, CVCC has been a shining star in the North Carolina Community College System. Gulfstream and Bluewater would like to recognize the guidance of Catawba Valley Community College President Dr. Garrett Hinshaw for his dedication and stalwart leadership, which he has provided CVCC and our community during the past couple of decades. The faculty, coaching and administrative staffs are great team members for the college and should be thanked for their service and commitment as well. We are fortunate to have such a shining light in the community college system right in our backyard and should do all that we can to support and facilitate the continued growth and excellence of CVCC."
The Gulfstream Shippers Association combines the buying power of its members to secure and maintain competitive rates from ocean carriers.  Their expertise is in the home furnishings, building materials and manufacturing industries.
Both Bluewater Logistics LLC and Gulfstream Shippers Association are located locally in Lenoir.
Davis sees similarities between his organizations and Red Hawk athletics, which compelled him to become involved in this year's golf tournament.
"Gulfstream Shippers Association and Bluewater Logistics LLC are made up of team members — the same way the Red Hawk athletic family is," Davis said. "Each person is there to support their teammates — not thinking about the individual, but rather about the whole family. Athletics have always been a big part of my life and in many ways shaped me to be a better businessman, friend, community advocate, husband and father. The success of this golf tournament's fund raising, and the community's continued financial support will provide these outstanding young women and men an opportunity to blossom and attain their goals."
Proceeds from the CVCC Red Hawk Golf Tournament will benefit the Hawks Heroes program, which provides the backbone for financial support for CVCC Athletics. Funds raised from the tournament will help provide scholarships for Red Hawk student athletes, athletic facility improvements and other program needs.
"We are so excited to have Bluewater Logistics LLC and Gulfstream Shippers Association as a partner and presenting partner for the Red Hawks Golf Tournament," said Catawba Valley Athletic Director Nick Schroeder. "They are instrumental in supporting our student athletes achieving success in the classroom and in competition. Our goal is always to provide the best and strive for championships and partnering with a championship level company only makes all of us better."
# # #