CVCC Office of Multicultural Affairs holds successful K.E.Y. Day festivities
Catawba Valley Community College's Office of Multicultural Affairs hosted another successful K.E.Y. Day (Knowledge Empowers You) this past week, helping to prepare new students for being on campus for the first time.
08/12/2021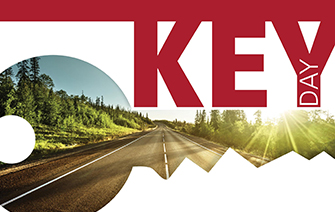 "Now more than ever it is imperative to connect with our incoming first-year students and show them that CVCC is here to support them in their academic journey," said Erika Tiscareño Velasco, Assistant Director for CVCC's Office of Multicultural Affairs. "During K.E.Y. Day, we succeeded in demonstrating to our students that we care about them and we have resources to help them meet their goals."
Around 20 students attended the festivities for K.E.Y. Day, which is is for first-year students from marginalized and underserved populations. 
Each of these students took part in workshops on career planning to maximize their time at CVCC, study habits, academic planning, safety protocols and technology. 
Because of their K.E.Y. Day experience, these CVCC students are now aware of the resources that are available to them campus-wide.
"It was encouraging to see students excited to engage with staff in person," Tiscareño Velasco said. "K.E.Y. Day participants positioned themselves to succeed because they took advantage of this opportunity to better prepare themselves for their first semester in college during a pandemic."
The Office of Multicultural Affairs collaborated with a number of different departments and individuals on campus to make this event a success, including Career Advising, Academic Success, Educational Technology, Learning Assistance Center, Red Hawk Help, Student Activities, Library, Head Women's Basketball Coach Tisha England and Safety, Security and Health, to make this event possible for our students.
For more information, Please visit CVCC's Office of Multicultural Affairs.
# # #