CVCC announces 2022 Distinguished Alumni Awards
Catawba Valley Community College has announced its recipients for the 2022 Distinguished Alumni Awards.
05/18/2022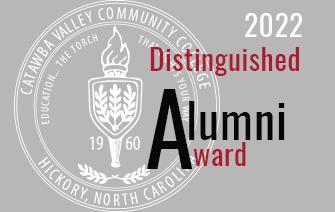 Each year, CVCC recognizes alumni who have brought distinction to themselves, credit to the college and genuine benefit to their communities. 
Alumni who have been awarded a degree, diploma or certificate from Catawba Valley Community College and who have made outstanding contributions and exceptional accomplishment in their chosen field; exceptional service in local, state or national affairs; and/or exceptional service in support of Catawba Valley Community College are eligible for nomination.
Winners are selected alumni from the School of Academics and Educational Opportunities, the School of Workforce Development and the Arts and the School of Health and Public Services at CVCC.
This year's recipients are: Ramie Lee Robinson, director of CVCC Electrical Systems program (Class of 1996); Greg Martin, general manager of Southland Electrical Supply (Class of 1976 and 1978); and Megan Parsons, counselor/supervisor for Caldwell County Department of Health & Human Services (Class of 2010).
"Each year, CVCC recognizes alumni who have brought distinction to themselves, credit to the college and genuine benefit to their communities," said Melanie Zimmerman, Alumni Affairs Officer at Catawba Valley Community College. "Ramie, Greg, and Megan have demonstrated all these qualities. They lead by example, and it is an honor to award them the Distinguished Alumni Awards. They will join a prestigious group of previous Distinguished Alumni Award recipients." 
Robinson was nominated by his wife, Michelle, because of his hard work and dedication to not only CVCC, but also to the families of Alexander County. Ramie has worked tirelessly for three years to expand the electrical programs at CVCC while building community partnerships. This past December, Ramie was promoted to a director role. 
As a director and teacher, he advocates for his electrical program, provides job opportunities for students and creates community connections. Ramie recently finished serving as the president of the Board of Directors for Habitat for Humanity where he also donated his time to help wire more than five homes. 
He also used this as an opportunity to provide on the job training for his students when he taught at Alexander Central High School and now with his current students at CVCC.
Ramie is working to make a difference in Alexander County by serving as a member of the Board of Education acting as a liaison between the community and school system where he listens, advocates and works to build strong relationships. 
"I am honored to be one of the CVCC distinguished alumni award recipients this year," Robinson said. "CVCC provided me a great opportunity to further my education after graduating from Alexander Central High School. I am very proud of the decision I made to attend CVCC from 1994 to 1996 and earn my diploma in Electrical Installation and Maintenance as well as my diploma in Heating, Ventilating and Air Conditioning. I think many people think the community college system is just here to serve students looking to transfer to a four-year college. While that is one part of the college, they offer many paths to successful careers in technical programs where there is an ever-growing demand. Attending CVCC allowed me to gain a skill set in a great environment with great instructors and set me on the path to a successful career."
Martin was nominated by Cindy Martin for the career opportunities that his two degrees from CVCC made possible and the accomplishments that he has had as a result in his career path. Martin started his career in textiles immediately after graduation from CVCC with Kayser Roth Hosiery in Hickory as an Industrial Engineer.  
He worked in hosiery industry for more than 30 years with Gold Toe Brands, United States Hosiery and Kayser Roth. He held the positions of VP of Manufacturing, Operation & Sourcing Manager, Plant Manager and General Manager during his textile career. 
He also enjoyed career opportunities as a Performance Manager with Broyhill Furniture and as the Program Manager with KDH Defense, which is a manufacturer of bulletproof tactical vest for our United States Armed forces.
Currently, Greg is the general manager of Southland Electrical Supply (SES) in Burlington — a role he's held for the past 11 years. He manages the daily operations for six manufacturing and warehousing sites throughout the southeast in four states. SES provides power distribution equipment to a customer base which includes Toyota Automotive, Amazon, Martin Marietta, Tesla, Rolls Royce, electrical integrators and data centers. 
"It has been more than 20 years since I had been on campus so I was immediately impressed with the volume of growth and quality of the facilities," Martin said. "As I watched the student awards being presented, I was amazed at the variety of awards and the diversity of the programs being recognized. My degrees from CVCC opened career doors for me which allowed me to travel the world. I have been blessed to work for several great companies and with many life long team mates."
Parsons was nominated by Carla Brotherton. She was in the first graduating class of Challenger Early College High School, where she graduated with honors and received her Associates in Applied Sciences from CVCC with Honors. She went on to receive her Bachelor of Arts degree at Lenoir-Rhyne University with Honors and her Masters at UNC Chapel Hill with Honors — all by the age of 21. 
Parsons is very dedicated and an advocate for her clients in the high school system in Caldwell County. She uses her social media outlets to promote awareness of issues related to rehabilitation. She works hard to place clients in appropriate job settings, showing each client the respect they deserve.  
"I am incredibly honored and humbled to have received one of the 2022 CVCC Distinguished Alumni Awards," Parsons said. "It means a lot to me to be recognized as a distinguished alumni. I have to credit CVCC and the professors that I had there for giving me a great educational foundation to build upon. Without the support I received at CVCC, I would not have been as successful as I am today."
List of Distinguished Alumni Award winners
2017
David Sain, Class of 1969
Leonor Tobar, Class of 1988
Corey Pittman, Class of 1994
2018
Rex Benfield, Class of 2005
Porschia Wimbush, Class of 2014
Johnny Vang, Class of 2015
2019 
Gerry Millholen, Class of 1974
Wendy Chavez, Class of 1990
Tosha Brown, Class of 2009
2020
Robin Nicholson, Class of 1981
Don Brown, Class of 2004
Tim Lee, Class of 2011
2021
Bryan Norris, Class of 1990
Vidal Sipe, Class of 2010
Mistie Hoosier, Class of 2019
2022
Greg Martin, Class of 1976 and 1978
Ramie Robinson, Class of 1996
Megan Parsons, Class of 2010
For more information about the CVCC Alumni Association, contact Melanie Zimmermann, 828-327-7000, ext. 4598 or mzimmermann@cvcc.edu. 
Photos left to right:
Greg Martin, Class of 1976 and 1978 and Dr. Garrett Hinshaw, CVCC College President
Megan Parsons, Class of 2010 and  Dr. Garrett Hinshaw, CVCC College President
Ramie Robinson, Class of 1996 and Dr. Garrett Hinshaw, CVCC College President
# # #