CVCC officially dedicates Mark Story Innovation Wing at Workforce Solutions Complex
HICKORY, N.C. — The life and legacy of the late Mark Bradley Story was celebrated on Saturday at Catawba Valley Community College.
05/10/2023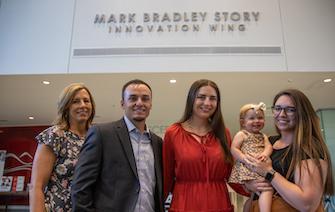 The Mark Story Innovation Wing at CVCC's Workforce Solutions Complex was officially dedicated during the ceremony held on Saturday afternoon. Story served as CEO of K-64 from 2017 until his unexpected passing on Feb. 4, 2020.
Family and friends of Story, including his widow Mitzi and their three children, gathered together to honor not only a great leader and visionary, but also a great husband and father.
"It was a wonderful day celebrating all Mark's contributions to CVCC, K-64 and all of Catawba County," said Mitzi Story. "He loved the area he grew up in and ultimately wanted all our young people to come back to this region. The celebration that took place this weekend solidifies all his efforts and hopefully will help to keep his passion alive for years to come. It is my hope that when students move throughout the Workforce Solution Complex that they will realize the contribution that Mark made for their futures."
CVCC President Dr. Garrett Hinshaw spoke about his personal relationship with Mark Story and how drastically Story's vision changed the landscape in Catawba County.
"Every once in a while, you will meet an individual that changes your trajectory in life. Mark Story was one of those individuals in my life," Hinshaw said. "Mark knew everyone in Catawba County through his work in private business, Catawba County Schools and Catawba Valley Community College. He was known as a leader and an individual that would just 'get things done.' Mark left this earth with a legacy of compassion, innovation and inspiration with all of those that were left behind. His impact on this community is felt every day along with the memory of a great family man and friend."
Jennifer Jones, CVCC's Chief Development Officer and Foundation Executive Director, worked with Mark Story as a K-64 Business Liaison before transitioning into the Office of the President.
Jones credited Story's innovative approach for providing students and educators with the tools and training to successfully navigate the challenges brought forth by the pandemic.
"Without his forward-thinking leadership and razor focus on the K-64 priority of One-to-World Technology, which placed a Chromebook in the hands of all Catawba County students, we would not have been prepared to seamlessly transition to online learning during the COVID pandemic," Jones said. "He was a visionary leader with a no-nonsense style and a heart of gold. Mark genuinely cared about others and was passionate about helping students. I will never forget the compassion, encouragement and kindness he extended to students, especially those who needed it the most."
Catawba County Commissioner Robert Abernathy Jr. spoke on behalf of Luke Walling — a longtime friend who helped Story pioneer the K-64 Initiative at Catawba Valley Community College.
"Mark knew what it takes to make a community competitive at retaining its young people, and he did it with unstoppable passion and energy for his home — Catawba County," Walling said. "When I expressed doubt about our public schools more than a decade ago when I met him, he didn't just tell me I was wrong, he introduced me to some of the most innovative educators I've ever met, and they were right here in each of our school systems. His vision and hard work culminated in the creation of K-64, an initiative that allowed our children to continue to be educated during the pandemic, long after his untimely departure. That initiative continues today, and, following Mark's vision and ideals, K-64 has the power to continue to do what he set out to do all along — keep our kids here and show off his home. I hope that seeing Mark's name beside the word innovation in this great space will inspire everyone that learns and visits here to do what he did — stop at nothing to uncover greatness and innovation here, and showcase it with great passion for all to see."
During the ceremony, a commissioned portrait of Story was unveiled, and it is displayed near the entrance of the wing bearing his namesake. The portrait was created by artist Randy Clontz, a native of Hickory and a Catawba Valley Community College alum.
"This was an emotional experience for me knowing I was asked to represent a bigger-than-life persona of one no longer with us while standing in a building in which he was foundational toward its development and purpose," Clontz said. "Always wanting to be faithful to his likeness, I also knew I needed to capture qualities of the person — someone I had never met. Thankfully, the Holy Spirit helped me to impart some of that, guiding my mind, hand and brushes, bringing this project to fruition. I am very honored to be a part of his legacy at CVCC, Catawba County and all the educational institutions his life touched."
A mural of Story with his quote — "The future of Catawba County begins and ends with our students" — is also on display near the midpoint of the wing.
"Mark Story changed the trajectory of Catawba County through his work as the primary author of the K-64 Initiative," Hinshaw said. "He was committed to innovation and always challenged others to not be comfortable in the way that we had always done things. His quirky smile, sense of humor, life experiences and tenacity for excellence made an impact in this community for generations to come."
To schedule a tour of CVCC's Workforce Solutions Complex and to learn more about the innovative programs it houses, the K-64 initiative or CVCC naming opportunities, contact Jennifer Jones at jjones555@cvcc.edu or 828-327-7000.
# # #