CVCC serves as Regional location for 4-H Electric Congress
Catawba Valley Community College recently served as the host for one of three Regional locations for the 2021 4-H Electric Congress, welcoming 28 youth to its campus this past week for the yearly event.
08/01/2021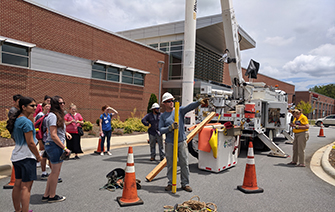 Continuing our long-term partnership with Duke Energy through their 4-H Electric Congress was an awesome opportunity for us to talk to these motivated young people about their futures by showing them the quality opportunities that we provide as a college," said CVCC President Dr. Garrett Hinshaw. "We were thrilled to host this program on our campus this year."
The 4-H Electric Congress, which normally meets in one location in the state of North Carolina, was modified this year due to COVID-19 to include three regional hosts in the western, central and eastern parts of the state.
CVCC was selected as the regional host for the west, welcoming students ages 11-18 from counties in the western part of the state, including Catawba, Alexander, Burke and Lincoln.
"Realizing we would not be able to conduct Electric Congress as a single event for our North Carolina 4-H'ers again this year, we determined regional events would be a good alternative," said Robin Nicholson, Duke Energy Government and Community Relations District Manger who also currently serves as the President of the North Carolina 4-H Development Fund Board. "CVCC's Workforce Solutions Center was quickly identified as the optimum location for this event. This facility allowed participants to see the educational and training opportunities at CVCC that can open doors to productive careers. Hopefully this experience will further engage these 4-H'ers in pursuing careers in the electrical and energy industries especially in the this region."
Students started their day at a Career Fair, learning about the careers and educational opportunities available to them. They also participated in a demonstration involving a Tesla electric car.
Following the Career Fair, students were broken up into two groups — both participating in two different sessions.
Each group took part in a workshop that involved saudering together kits in an electrical lab in CVCC's WorkForce Solutions Complex. These kits involved components of a full testing module, which was eventually connected to a soil moisture tool.
Members of the second group were able to speak with individuals who work in the electric industry such as Duke Energy lineman.
The second group also participated in demonstrations in various sections of the WorkForce Solutions Complex, including automotive with Automotive Systems Technology department head Shawn Mull, welding with Welding Technology department head Mark Sigmon, mechanics with Engineering department head Jim Thomas and HVAC with HVAC Director Darrell Wilson.
Following these groups sessions, students participated in an awards ceremony, which identified county-level winners and top winners form the state. The ceremony was simulcast between all three regional sites.
This was the 74th consecutive year that Duke Energy and Dominion have presented the 4-H Electric Congress, which is an educational event designed to recognize excellence in the Electric Program throughout the state. Electric Congress travels from region to region of the state, thus allowing for a variety of programming opportunities for everyone. 
For more information about the 4-H Electric Congress, please visit http://nc4h.ces.ncsu.edu/electric/overview
# # #