CVCC students to benefit from Lenoir-Rhyne's Bear Bound partnership
HICKORY, N.C. — Catawba Valley Community College has partnered with Lenoir-Rhyne University to expand transfer student access and make a four-year degree more affordable.
02/23/2023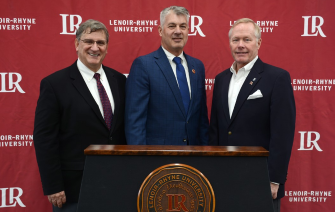 The Bear Bound partnership was officially announced on Wednesday after discussions between Lenoir-Rhyne University and 14 members of the North Carolina Community College System (NCCCS).
"This is a re-definition of higher education for the future," said CVCC President Dr. Garrett Hinshaw. "That's important for everyone to understand. We need more universities — public and private — to reach out and find ways to make this pathway accessible and ensure our students are valued as they progress."
Bear Bound benefits include transparent and seamless transfer of general education credits from CVCC to Lenoir-Rhyne, allowing CVCC graduates to satisfy the general education course requirements.
Tuition will also be lowered from $43,000 to $30,000 for CVCC graduates who attend Lenoir-Rhyne University.
CVCC graduates who meet academic requirements will also be eligible for the LR Promise, which reduces the cost of attending Lenoir-Rhyne by $15,000 before other aid is applied. The LR Promise was not previously available to community college transfers.
Lenoir-Rhyne University President Dr. Fred Whitt said Wednesday's agreement came after two summit meetings held between representatives from LRU and the 14 NCCCS schools who signed the agreement.
"(Bear Bound) is an initiative that I think places the students and families and their needs as the priority in the region," said Lenoir-Rhyne University President Dr. Fred Whitt. "It's not about what we want to do. How do we meet them where they are and how do we partner in collaboration — not in competition — with our local community colleges in the region? What we want to do collectively is provide those clear, affordable pathways to those who want to complete their four-year degree."
CVCC graduates will be eligible for campus housing, and there are expedited pathways for students in professional programs as well as seamless and cost-effective pathways for working community college graduates.
Catawba Valley Community College and Lenoir-Rhyne University are also working to implement co- admission agreements and explore joint advising opportunities.
Bill McBrayer, Vice-Chair for the State Board of Community Colleges, said Wednesday's announcement continues to build a road map for future collaboration between colleges within the NCCCS and both public and private four-year colleges and universities in North Carolina.
"This agreement provides a strong example for other colleges and universities to model through effective partnerships throughout our Great 58," McBrayer said. "With the help of this program, it will help take our students to greater heights."
The Bear Bound agreement is the latest between Catawba Valley Community College and a four-year college and university in North Carolina.
Hinshaw is hoping this latest agreement will continue to open doors for CVCC to work four-year colleges and universities to partner together for the greater good of the North Carolina economy.
"We all are working hard to ensure that we can provide a quality workforce for the state of North Carolina," Hinshaw said. "That's our singular goal and mission, and we're going to do that through academic excellence. Our transfer students are going to come here, succeed here and live here."
# # #