CVFA Holds SOFA Pre-Apprenticeship Graduation
The CVCC SOFA Pre-Apprenticeship graduates were recognized at a private graduation ceremony.
08/09/2023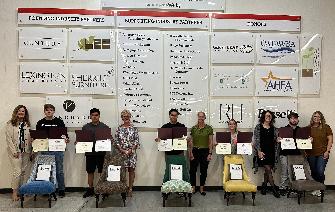 On Monday, August 7th, the CVCC SOFA Pre-Apprenticeship graduates were recognized at a private graduation ceremony at the Catawba Valley Furniture Academy.
The SOFA (Student of Furniture Apprenticeship) Academy is a Pre-Apprenticeship program designed for high-school students, aged 16-18, who wish to develop new skillsets and gain credentials which set them up for a career in the Furniture Manufacturing industry.
Student graduates included Tristin Jones; Gael Trejo-Minor; Heikki Romo; Kaylyn Holman; and Gavin Long.
As a SOFA pre-apprentice, these students receive paid pre-apprenticeship positions over the course of seven weeks with local furniture manufacturers. Each employer seeks to connect with and support students in their education by providing on-the-job training which introduces them to industry standards. Upon completion of their apprenticeships, the students hopefully build a network with these companies so that they can look forward to future employment.
Many SOFA Academy and CVFA partners, such as Sherrill Furniture and Century Furniture, show their commitment to student learning through opening pre-apprenticeship opportunities to new students year after year.
"Sherrill Furniture continues to appreciate and foster our partnership with Catawba Valley Furniture Academy," states Paula Daniels, Director of Human Resources at Sherrill Furniture. "The furniture industry relies on CFVA, and the apprenticeship programs established through the Catawba Apprenticeship Network and SOFA, to encourage students to explore the promising career opportunities offered by the furniture industry."
Some students were also able to find continued opportunities after the program, as was the case for one student who worked with Elite Comfort Solutions (ECS) Furniture.
"We were so excited to partner with the SOFA program and have (this student) back for their second summer with ECS," remarks Megan Lowery, Human Resources Coordinator for ECS Furniture. "We love to participate in programs that invest in youth, as they are the future of the workforce."
Experience in the SOFA Pre-Apprenticeship program goes far in helping students gain professional credentials which can be added to their portfolio or resume. As the SOFA pre-apprenticeship continues to expand, CVCC can continue to encourage a new appreciation for the furniture industry.
For more information about SOFA or the CVFA, please contact Brian Craig, Director of the Catawba Valley and Alexander Furniture Academies, at bcraig975@cvcc.edu.
Pictured Above, Left-Right: Mindy Solano, Tristin Jones, Gael Trejo-Minor, Caren Howard, Heikki Romo, Paula Daniels, Kaylyn Holman, Megan Lowry, Gavin Long, and Lauren Story.
Catawba Valley Community College empowers students to transform the communities of our region and our state by providing exceptional learning experiences, premier workforce development, and engaging personal enrichment. With over 50 programs of study across four academic schools, CVCC provides higher education access and opportunities to anyone seeking the "next step" in their life journey. Serving both the Catawba and Alexander counties of North Carolina, CVCC is committed to the future of our service area, region, and state. Learn how you can SOAR at cvcc.edu. 
# # #