Campbell University, CVCC Sign Memorandum of Understanding
Both institutions established an official partnership for any CVCC student
08/23/2023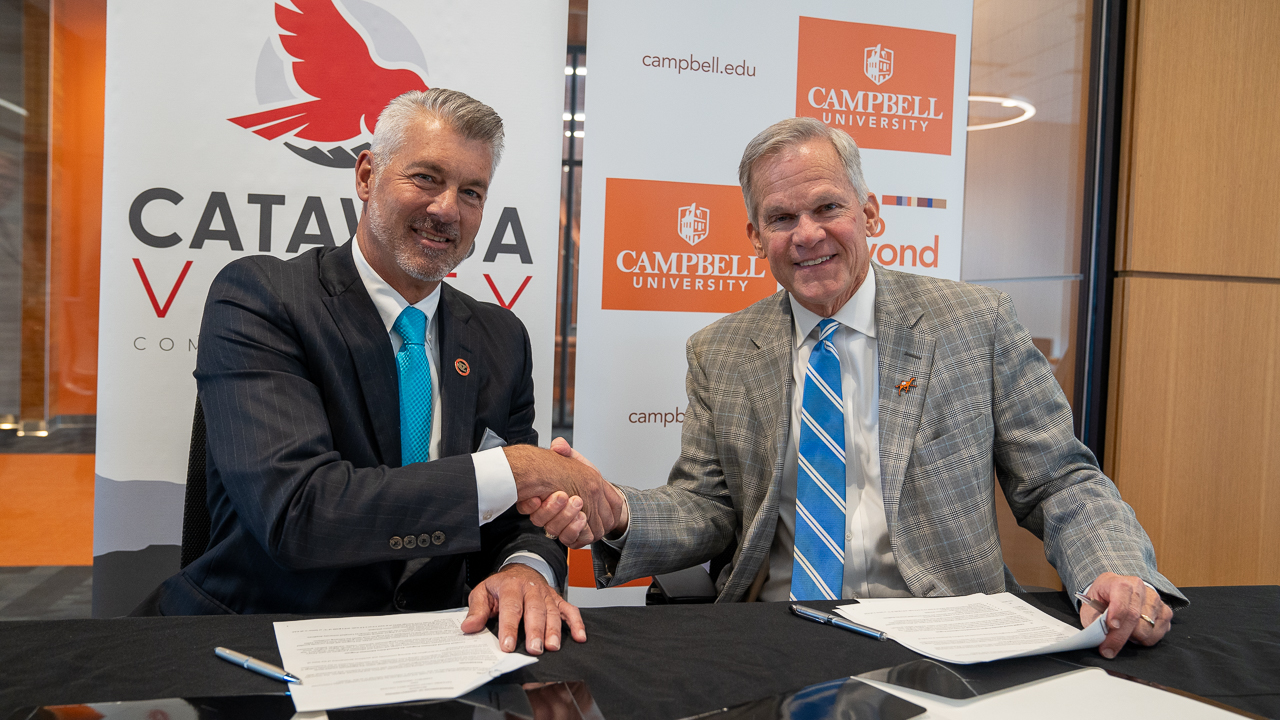 BUIES CREEK, N.C. – On Wednesday, August 23rd, Catawba Valley Community College and Campbell University established an official partnership to "provide a seamless transfer process" for any student interested in pursuing a 4-year degree upon graduation from CVCC.
The Memorandum of Understanding, signed by both schools, creates and administers the Campbell Assured Admission Program, which allows currently enrolled CVCC students an "assured-entry" pathway to Campbell University. As an added benefit, CVCC students who take part in Campbell Assured receive early access to information about Campbell's academic programs. CVCC students may also connect with Campbell faculty and staff, who facilitate their transition into the university.
According to the agreement, the program "prioritizes the ability to receive admission, financial aid and orientation communications early in the transition process, which sets CVCC students up for maximum success at both institutions." 
CVCC President Dr. Garrett Hinshaw shared excitement about the opportunity to partner with Campbell, as it "assures access for CVCC graduates to this outstanding institution of higher education."
"Campbell University is known for its excellence in offering high-demand workforce credentials that will meet the needs of the state, region and our community," Hinshaw said. "Our graduates will now have the opportunity to experience a transition to another great university here in the state of North Carolina."
Campbell University's Vice President for Academic Affairs and Provost, Dr. Michael Adams, echoed this idea. "Campbell University is dedicated to supporting the exceptional Catawba Valley Community College graduates who wish to continue their education with us," Adams said. "Working intentionally with colleagues at CVCC, we seek to provide a seamless transfer process in support of students' academic and professional goals."
CVCC's participation in this program was also made possible by Debbie Austin, Director of University Co-Admissions programs at CVCC and former director of CVCC's Early College programs. Based on her experience working with many different students, she believes the partnership is a good fit for both schools.
"I was very impressed with the number of scholarships and grants [Campbell] gave students to enroll there," Austin said. "More often than not, students received enough aid to make the cost similar to what it would have been to attend a public school in North Carolina."
"With Campbell's College of Pharmacy & Health Sciences, School of Law and their outstanding clinical science programs, [CVCC] students have the ability to complete a bachelor's degree surrounded by the resources to be competitive when applying to any professional program across the state."
For more information about the CVCC Co-Admissions program, please contact Debbie Austin at daustin@cvcc.edu.
Pictured Above: Dr. Garrett Hinshaw of CVCC and Dr. Bradley Creed of Campbell University sign Memorandum of Understanding at Wednesday's signing ceremony.
Photo Credit: Evan Budrovich, Campbell University
# # #