Groundbreaking ceremony being held Friday at CVCC's Manufacturing Solutions Center
Catawba Valley Community College and the city of Conover are hosting a Groundbreaking Ceremony on Friday at the Norman B. Coley Amphitheater in Conover.
04/30/2021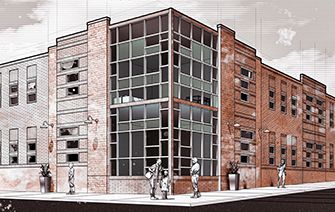 The event takes place starting at 11 a.m. and highlights the Manufacturing Solutions Center PPE-NC Initiative. A total of $9 million was appropriated from the North Carolina General Assembly to the city of Conover to provide a new two story 30,000-square foot facility and renovation to CVCC's Manufacturing Solutions Center's current facility along with PPE manufacturing equipment. 
Included in the new 30,000-square foot space for MSC is a $4 million 45,000-square foot private sector funded factory floorspace by Ingram Walters for MSC's graduated incubator clients. This new public-private partnership is an example of how the public sector can work with the private sector to create jobs and economic development in a creative manner. 
The total project cost is $8.334 million. Campbell Design Built Architecture designed the new facility and Matthews Construction is the GC for the project.
The first floor of the new facility will house MSC's structural engineering along with a fabric formation lab. The second floor will house the PPE/Textile Resource Lab along with conference and meeting rooms to support economic development. 
This building expansion will allow for the space needed to up-fit the current MSC labs for PPE testing and two clean rooms. The PPE testing equipment purchase was made possible by both a $500,000 NC Community College grant and NCMEP grant.
Below are a few of the clients who are a part of this PPE-NC Initiative (in alphabetical order):
Evolved By Nature
Evolved By Nature is a new type of biotech company, creating new molecules for a healthier future. Using Activated Silk™ technology – a platform of sustainable silk molecules – Evolved By Nature reduces reliance on problematic chemicals, building better supply chains and vastly increasing the performance potential of existing materials to advance the health of people and the planet. 
"As a result of our relationship with the Manufacturing Solution Center, we've been able to develop new product prototypes, as well as test and improve our technology," said Enrico Mortarino, V.P. Textile Innovation for Evolved By Nature. "The new Center initiative means there will be even more available space for our Innovation team to advance our research, and we plan to further expand our product development application to textiles. We look forward to continuing our participation in the local business community."
InnovaKnits
InnovaKnits is a state-of-the-art textile manufacturing company specializing in flat knit consulting, development and domestic production of flat knit textiles. InnovaKnits has 30-plus years of experience in flatbed knitting across many different industries and product categories — ranging from apparel to healthcare and even aerospace and automotive. 
InnovaKnits prides itself on its dynamic culture and eagerness to assist customers on all types of textile projects, and it focuses on delivering technically superior products through our dynamic ability to develop high tech and innovative textile solutions — all produced domestically and made in the USA, right here in North Carolina
InnovaKnits' technical expertise and mastery of our equipment allows it to compete more robustly with manufacturers world-wide. 
"InnovaKnits has been at the Manufacturing Solutions Center Incubation Space since 2015," said Jason Wilkins, Managing Partner for InnovaKnits. "We chose to move our operations to Conover, North Carolina specifically to tap into the resources and connections MSC can offer a new business startup. Being an incubator client of MSC has offered us new business start-up cost savings, value added services, direct sales leads, visibility in the market place and direct contract manufacturing and training opportunities. These valuable benefits of being located at the MSC afforded us the opportunity to successfully launch our manufacturing business, and then grow it 30 percent to 100 percent annually for the past six years. In this process, we have added hundreds of thousands of dollars of our own equipment, hired 10-plus local employees, and have fostered relationships with and created products for major companies across the USA. These products have, in turn, created additional jobs / opportunities within these own respective companies."
Co-locating at the MSC has been instrumental in the success and growth of Innovaknits, LLC, and it hopes to continue this growth and success in the new building in downtown Conover. 
"We love this area, and are thrilled at the opportunity to keep our company here," Wilkins said. "We look forward to adding more equipment, more jobs and more visibility to Conover as we continue to grow our company and expand our reach and influence within the flatbed knitting industry."
Knit Engine
Knit Engine is the newest incubator company at the Manufacturing Solutions Center. They joined officially the MSC in January 2021, but have been with the MSC for a couple of years as our Stoll M1 instructor and with MSC assisting Paul getting his company off the ground. Below is from Paul Loveman principal of Knit Engine:
Knit Engine empowers people to make customized knit products through a guided, non-technical process. The company's core technology is an integrated design, manufacturing, and fulfillment platform which collects customer preferences through software, and outputs bespoke retail goods for direct shipment.
Knit Engine began its relationship with the MSC as a training partner, before becoming an incubator company. 
Some of the characteristics that make the MSC a unique industry resource include knowledgeable, approachable personnel who deftly communicate their expertise; willingness to make advanced manufacturing equipment available on a fractional-time basis; and general fostering of an ecosystem conducive to manufacturing and fulfillment operations.
It has been a privilege for Knit Engine to contribute to the MSC ecosystem, and we look forward to what the future has in store.
YU Apparel Corporation
YU Apparel was founded in 2016 in answer to the growing need for high quality, true graduated compression apparel at an affordable price. Seeing this need and responding proactively, YU Apparel rose to the challenge. 
Being committed to contributing to the local community, YU Apparel saw great value in establishing the YU Apparel plant in Conover — the hub of innovative textile research and development. Together with the team at Manufacturing Solutions Center, YU Apparel's team developed a product of excellence at an affordable price. 
Focusing on the need of professionals, such as airline personnel, medical personnel and education professionals, YoU Compression Wear® is providing the highest quality compression technology at an affordable price. 
"I was looking for opportunity in 2016 to establish Made In USA manufacturing facility for medical compression stocking. Through research and contact, I found out that Manufacturing Solution Center is the leading expert for all matters related to textile manufacturing," said Chao Yu, owner of YU Apparel Corporation. "That is where I went and started the process. The MSC has provided excellent education with up to date industry knowledge and latest technology that keep up with fast paced, information fueled digital economy. They also provide all the resources and best support for my endeavor. Through MSC tireless effort, I was able to recruit the best person to help me build the company from ground up."
MSC is instrumental to introduce industry's leaders with new company like mine to provide timely advices. And connect local skilled labor force with the right company for its mission to have Made IN USA solution to rebuild and expand the textile industry and the economy.
MSC provides technical know-how and network of professional and skill labor to help start up like mine to build, grow and thrive. It is a centered of excellence of textile manufacturing. 
Recent pandemic has shown the importance of local industry to be important part of supply chain, especially in the time of crisis. YU Apparel is happy to be part of solution led by all levels of government and represented by MSC to show Made in USA goods can be competitive in quality and value.
"We are extremely happy and honored to continue work under MSC's guidance for the coming years and look forward to moving into the new facility." Yu said. "I want to take this opportunity to convey my gratitude to all the staff at MSC that have provided with best support for our growth. We will not be where we are without your support."
Also included is a rendering by Campbell Design for a new testing facility at the site of the Manufacturing Solutions Center.
# # #