Jimmie Patrum Memorial Scholarship
Trio of CVCC automotive students receive Jimmie Patrum Memorial Scholarship
Trio of CVCC automotive students receive Jimmie Patrum Memorial Scholarship
01/25/2023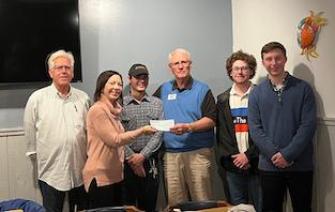 HICKORY, N.C. — Catawba Valley Community College (CVCC) automotive students David Huffman, Samuel Crisp and Dalton Childress have received scholarships in memory of Jimmie Patrum through CVCC Foundation, Inc.
The Jimmie Patrum Memorial Scholarship honors the legacy of Patrum, a Wilkes County native and Statesville resident who was a master mechanic.
Patrum was a long-time member of the Vintage Chevrolet Club of America and avid classic car enthusiast. He passed away unexpectedly in 2018.
Huffman, Crisp and Childress were chosen as recipients of this year's Patrum Scholarship after an application and interview process.
"I would just like to express how pleased we are to have these three young men representing our club — The Carolina Crossroads Region of The Vintage Chevrolet Club of America — by receiving this year's Jimmie Patrum Memorial Scholarship," said Alan Banner, president of the Vintage Chevrolet Club of America.  "Dalton Childress and Samuel Crisp were unanimous choices as recipients last year and the scholarship committee saw no reason not to continue their support through their final year. David Huffman was a new candidate this year, and we could find no reason not to reward him this year as well. I am sure that they are going to do well in whatever they choose, and that Jimmie would be immensely proud of them."
The Jimmie Patrum Memorial Scholarship is a huge help for Huffman in continuing his education at Catawba Valley Community College.
"This is truly going to give me the opportunity to make my spring semester so much easier and so much less stressful," Huffman said. "It's going to give me an extra kick out of the door when I do graduate from CVCC. It'll give me the extra boost I need to succeed when I first get on the line as a technician."
Crisp, who recently graduated with help from the scholarship, expressed his appreciation for those who selected him.
"I simply can't thank the Jimmie Patrum Scholarship Committee enough," Crisp said. "I was able to go to school and graduate debt free. It was so nice to have the support and encouragement to work towards my dreams. I hope to have the ability to contribute in this way later on. I'm so glad I was able to be a student at CVCC. I was able to really apply myself and talents to study and work towards a degree and career. I can't thank the teachers and staff enough for their support and willingness to help me succeed. I will surely miss being in the Workforce Solutions Complex and going to school."
Childress, who currently has two semesters left at CVCC, said receiving this honor is extremely helpful as he continues to complete his degree with plans to continue his automotive career after graduation.
"Receiving the Jimmie Patrum Scholarship is such an honor," Childress said. "This award means so much to me. The ability to go to school for something I love doing is something you can't beat. Receiving this award is helping me accomplish my dreams."
The Catawba Valley Community College Foundation. Inc. is a 501(c)3 nonprofit dedicated to supporting the vision and mission of Catawba Valley Community College (CVCC) in transforming our community while empowering our students.
Through various endowments, the CVCC Foundation Inc. helps to provide more than 100 scholarships each year to students at Catawba Valley Community College to help enrich student's education experiences at the college.
"I also would like to thank Catawba Valley Community College for their most professional assistance in making this a very straightforward process for us," Banner said. "We are lucky indeed for a school of this caliber producing students such as these. This whole process restores my confidence in the future of our youth's education."
"The CVCC Foundation is honored to have the privilege of partnering with The Carolina Crossroads Region of The Vintage Chevrolet Club of America to help carry forward Jimmie Patrum's legacy and passion for cars through awarding deserving students a scholarship in his memory to assist them in achieving their educational and career goals," said CVCC Foundation Executive Director Jennifer Jones. "Dalton, Samuel and David each share Mr. Patrum's passion for cars and honor his memory well with their dedication to their education and the automotive industry. Each of them makes Red Hawk Nation proud."
To learn more about CVCC Foundation Inc. or to donate, please visit www.cvcc.edu/about_us/cvcc_foundation/ or contact Jennifer Jones, Executive Director of the CVCC Foundation, Inc., at 828-327-7000, ext. 4288 or email jjones55@cvcc.edu.
# # #