K-64 announces Tech-Savvy Innovative Educator Award winners
A total of 44 educators in Catawba County have been awarded the Tech-Savvy Innovative Educator Award through K-64.
06/08/2021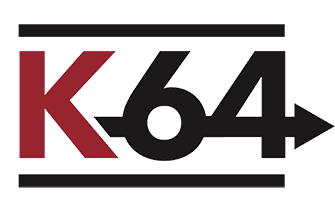 "K-64, along with our community and supporters, is pleased to recognize our educators in Catawba County for embracing, adapting, engaging, collaborating, developing and succeeding in the spirit of a Tech-Savvy Educator during the 2020-21 academic year," said Chris Reese, executive director for K-64.
The awards highlight one of K-64's guiding principles and honors educators who demonstrated a mastery of innovation with remote learning and integrating technology into the curriculum throughout this year.
"Over the past 15 months, our teachers have been tasked with personalizing learning by quickly and effectively developing and implementing a quality digital learning environment," said Dr. Heather Mullins, Chief Academic Officer for Newton-Conover City Schools. "The pandemic accelerated our long-term goals for teachers' professional development and implementation of a sustainable tech-driven personalized learning plan. The recipients of the K-64 Tech Savvy Educator Awards have exemplified leveraging technology and new instructional approaches to meet students' needs. We are so grateful to K-64 for spotlighting the efforts of these teachers as well as taking time to recognize the efforts all teachers have made to ensure our students were provided with high-quality instruction throughout this year. 
One winner of this award was chosen from each school within the Catawba County Schools, Newton-Conover City Schools and Hickory Public Schools systems. Each winner receives a $500 prize, which can be used this fall in their classroom and help you take their classroom to the new level.
"We are extremely proud of our Tech-Savvy Innovative Educator Award winners," said DeAnna Finger, Assistant Superintendent of Curriculum and Instruction for Catawba County Schools. "These teachers have gone above and beyond to create optimal learning experiences for their students this school year. The best part is that they were nominated for this award by their peers. We are so appreciative of K-64 for recognizing these teachers for their hard work and dedication to innovation."
Tech-Savvy Innovative Educator Award winners include (alphabetical by school name): Maggie Rees, Arndt Middle School; Sarah Akers, Balls Creek Elementary School; Allison Andrews, Bandys High School; Barbara Hall, Banoak Elementary School; Amanda Lemaire, Blackburn Elementary School; Jason Kennedy, Bunker Hill High School; Ashan Spillman, Catawba Elementary School; Paige Richards, Challenger High School; Deanna Albertino, Claremont Elementary School; Diane Bennett, Clyde Campbell Elementary School; Rochelle Medvec, Conover School; Brandy Thurman, CREC; Debbie Kellogg, Discovery High School; Whitney Shuffler, Fred T. Foard High School; Jordan Goode, Grandview Middle School; Mary Lee Tosky, HCAM; Jason Hoyle, Hickory High School; Katina Peck, Jacobs Fork Middle School; Betsy Swann, Jenkins Elementary School; Joshua Seabolt, Longview Elementary School; Lisa Brittain, Lyle Creek Elementary School; Elisha James, Maiden Elementary School; Monica Smith, Maiden High School; Karen Harris, Maiden Middle School; Paige Bagshaw, Mill Creek Middle School; Deena Whitener, Mountain View Elementary School; Kelly Drum, Murray Elementary School; Kim Poole, Newton-Conover High School; Erin Sims, Newton-Conover Middle School; Christina Recker, North Newton Elementary School; Melissa Pearson, Northview Middle School; Laura Marvin, Oakwood Elementary School; Kellie White, Oxford Elementary School; Karen Squiric, River Bend Middle School; Jeremy Whitener, Sherrills Ford Elementary School; Emily Bryan, Shuford Elementary School; Selena Teagure, Snow Creek Elementary; Katie Truesdale, South Newton Elementary School; Stephanie Ashley, Southwest Primary School; Vanessa Petty, St. Stephens Elementary School; Tammy Cordeiro, St. Stephens High School; Karen Brown, Startown Elementary School; Julie Young, Tuttle Elementary School; and Caitlin Norton, Viewmont Elementary School.
For more information on the K-64 Initiative at Catawba Valley Community College, please visit www.k-64learning.org.
# # #