Red Hawk Esports hosting 24-hour Twitch stream
The Catawba Valley Community College Esports program will make history this Thursday and Friday when it hosts a 24-hour stream to raise money for the program. Starts Thursday, Dec. 16 to Friday, Dec. 17 at noon.
12/17/2021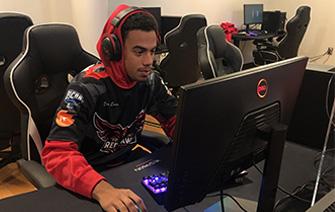 The Red Hawks will be streaming on their official CVCC Red Hawks Twitch Channel (www.twitch.tv/cvccredhawks) from noon on Thursday, Dec. 16 to Friday, Dec. 17 at noon with the goal of raising funds to continue this rapidly growing avenue for student athletes to participate in.
"We are excited to be possibly one of the first-ever colleges and universities in the country to attempt such a feat," said Red Hawk Esports head coach Cody Dalton. "All of the credit goes to members of our fall roster who came up with this unique idea of spotlighting our program while raising money to support it. It should be a very entertaining and unique experience for everyone who joins us."
CVCC President Dr. Garrett Hinshaw has also agreed to participate at the beginning of the stream, which will feature game titles that the team competes in and other interactive video games that viewers will have a chance to play.
The Catawba Valley Community College Esports team was founded in the summer of 2019 as the first junior college program of its kind in the state of North Carolina. Since that time, nearly 50 students have been a part of the program.
The Red Hawks are coming off their most successful season so far in which they had two playoff qualifiers through the National Junior College Athletic Association Esports (NJCAAE). 
The CVCC Esports team also had three NJCAAE All-Academic team members in the spring 2020 semester — tied for the most of any junior college in the nation.
The Red Hawks currently compete in several game titles, including Valorant, Fortnite, Overwatch, NBA2K, Madden and Super Smash Bros.
For more information on the CVCC Esports program, please contact head coach Cody Dalton at 828-327-7000, ext. 4133 or email  cdalton880@cvcc.edu. To donate to the program, visit Catawba Valley CC Esports Program (https://org.eteamsponsor.com/ETS/supportUs/373386856) or click the button below.

# # #