Three CVCC students receive Hickory Woman's Club scholarships
Continuing a legacy started in 1978, the Hickory Woman's Club funded scholarships for three Catawba Valley Community College students through donations to CVCC Foundation, Inc.
12/21/2021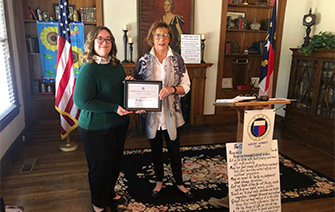 Sharalyn Campbell, Kyliee Lapham and Jordan Noack were all awarded scholarships by the Hickory Woman's Club, which was founded in 1917 as the first civic club for women in the Hickory Metro and is an affiliate of the North Carolina Federation of Women's Clubs.
"One of the purposes of the club is to assist in the general welfare of our young people, and to encourage development in continuing education," said Susan B. Hughes, president for the Hickory Woman's Club. "The Hickory Woman's Club awards scholarships based on academic ability, leadership qualities, participation in community activities and potential for a successful college career. It is a member of the General Federation of Women's Clubs, the oldest and largest women's volunteer organization dedicated to community service."
Campbell is currently a student in the CVCC Regionally Increasing Baccalaureate Nurses (RIBN) Program.
Nursing has been a life-long passion for Campbell, and she shared that passion with her father growing up.
"I have a lot of educational and career goals, but my main one is striving to be the very best version of myself so I can be the best nurse I can," Campbell said. "I fully acknowledge that achieving my dream of being a nurse is going to be difficult, but I'm more than willing and excited to give it my very best no matter what."
Lapham is pursuing her Associate in Science with plans to transfer to either Charlotte or Appalachian State and become a chiropractor. She is also a member of the CVCC softball program.
Lapham discovered her passion for wanting to become a chiropractor through her work with the Safe Harbor Women's Center.
"I knew that helping others in any way I could was something I wanted to strive for every day," Lapham said. "That is one of my reasons for becoming a chiropractor."
Noack is a first-year CVCC student who is pursuing an Associate's Degree in Exercise and Fitness Science with plans to transfer and become a physical therapist.
She discovered her career path while interning with physical therapist Maureen McCarthy before graduating high school.
"Being a part of this internship is what helped me decide what I wanted to go to school for," Noack said. "I got to build relationships with patients, and I learned that there is more to this field than just helping people get better physically."
CVCC Foundation Inc. is a nonprofit organization with the mission to foster and promote growth, progress and the general welfare of CVCC. Foundation donors make this possible through restricted or unrestricted gifts.
For more information or to donate to CVCC Foundation Inc, contact Chief Development Officer Jennifer Jones at 828-327-7000, ext. 4288 or email jjones555@cvcc.edu.
From left, Catawba Valley Community College student Sharalyn Campbell receives a scholarship from Hickory Woman's Club President Susan B. Hughes. Campbell was one of three CVCC students to receive scholarships through the Hickory Woman's Club, including (not pictured) Kyliee Lapham and Jordan Noack.
# # #