CVCC Music Students Advance to National Singing Competition
Catawba Valley Community College music students recently participated in the Regional National Association of Teachers of Singing Competition (also known as NATS) with three students advancing on in the competition.
04/13/2020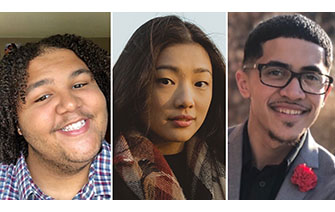 Catawba Valley Community College music students recently participated in the Regional National Association of Teachers of Singing Competition (also known as NATS) with three students advancing on in the competition.
The NATS Regional competition was originally scheduled March 13-14 on the campus of the University of South Carolina in Columbia, S.C. with more than 500 singers from North Carolina, South Carolina, Virginia, Maryland and Washington, DC set to compete. 
However, due to the extensive travel restrictions, the competition was moved to an online format, and students were tasked to record YouTube videos of songs for submission to the competition judges.
Following the unique format and judging, three students successfully placed in the regional competition. 
"I am so proud of our CVCC NATS Regional competition winners," said Caroline Simyon, director of Music for Department of Fine Arts at CVCC. "They went up against four-year institutions in a five-state region and won. They did not let the obstacles that COVID-19 placed before them get in their way. They rose above the challenges, performed beautifully and represented CVCC well. They are all awesome ambassadors for our school and the Hickory area."
CVCC student Ishmeal Parsons placed third in two categories — First-Year Men's Music Theater and the Hal Johnson Spiritual category. He performed one of his favorite songs — "Fix Me Jesus" — arranged by Johnson.
"There was a lot of anxiety and pressure going into it because I knew that you had to be really talented to even make it this far let alone make it to nationals," Parsons said. "I knew I had to really just focus on me and remember all of the hard work I put into being able to go to this competition. The only thing I could do was rely on my preparation. Filming a video due to COVID-19 had its pros and cons. I could do it in my own comfort zone and have retakes, but at the same time I feel like there's something missing that you don't get over videos like you would in person. I am very grateful and know none of this would've been possible without my friends, family and my amazing voice teacher Mrs. Simyon."
Wowing judges with her piece — "Lost in the Brass" from the musical "Band Geeks" — Red Hawk student Hannah Kevitt placed third in the First Year Women's Music Theater Category.
"With this being my first year to NATS, this was all totally new experience for me," Kevitt said. "I was really disappointed that we weren't going to get to travel and experience auditioning live together, but I completely understood the necessary precautions. Having Ms. Simyon, my voice teacher, our amazing accompanist Freda Herrell, and (Music Instructor) Ms. (Kimberly) Ray there while recording was actually really nice. You can feel that they all want you to succeed and are always on your team. With this being my last semester, I am so grateful to have been selected to move on to the next round. Even more than that I am so grateful to have been reminded of how much I am going to miss my friends and teachers at CVCC."
CVCC freshman Cesar Javier Cruz-Rodriguez placed fourth in the First Year Men's Music Theater category, where he cast a spell on his judges with his smooth performance of "You've Got a Way" from the musical "Movin' Out."
Like his classmates, Cruz-Rodriguez was disappointed to not be able to travel to Columbia, where he had never been before, but he made the most of his opportunity to compete.
"All in all, the goal was still the same — live or in video — and the responsibility of performing at a high level had not changed," Cruz-Rodriguez said. "My favorite piece that I performed was 'Piragua' from 'In The Heights.' I really connected with the story of the common Puerto Rican snow cone guy in the big city. I'm of Puerto Rican and Guatemalan ethnic background myself and growing up 30 mins from Manhattan, I knew the character like I know 'Do Re Mi.'"
These three talented students advance to the first round of the National NATS competition, which will also be by video submission at the end of this month. The results from that round of competition will come back in mid-May.
"I'm so proud of our students for their hard work and dedication," said Music Instructor Kimberly Ray. "Unlike their competition, most of our students have never had formal music training before coming to college so they know they have to dig in and be courageous at every step. Equipping them to realize their dreams is something our instructional team, CVCC and our entire community can all be very proud of."
For more information about the music program and the Associate in Fine Arts in Music degree at CVCC, please contact Caroline Simyon at csimyon@cvcc.edu.
# # #