Phi Theta Kappa Events
Phi Theta Kappa Events and Fundraisers
Current Events
Students hold information session and give food from Cvcc food pantry
August 16 - 17, 2021
PTK hosted information and snack tables for students the mornings of August 16 and 17th in the West Wing and CAD buildings. Members gave directions, answered questions and greeted each student as they entered the building. Come and join our CVCC BETA ETA DELTA CHAPTER!

New Members Induction Ceremony, PTK Graduate Event
April 06, 2021
For a list of Phi Theta Kappa events and meetings, check the CVCC Calendar of Events, or find us on Facebook, Twitter, and Instagram!

Featured Past Events
Have a Dawg!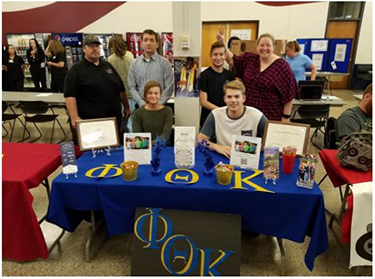 October 19, 2017
Beta Eta Delta started off the semester with a bang!
Have a Dog with the Big Dawg is a great way to jump right into the fall semester here at CVCC. Interact with fellow students, learn about all the clubs at CVCC, receive free lunch courtesy of Student Government, and even get to interact with the "Big Dawg", also known as Dr. Hinshaw, CVCC president.
We hope everyone got to stop by, say hello, and ask questions at this event. If not, Phi Theta Kappa will be present at many other events this year, including Fall Carnival, Fall Fling, Spring Fling, and many more!
Heaven Davis, president
PTK Awareness Week: Rock Painting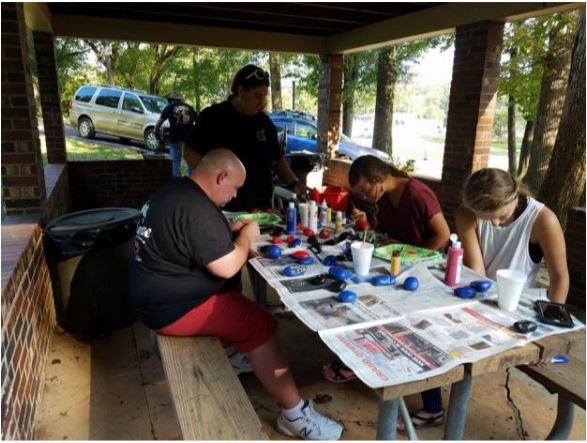 October 6, 2017
Beta Eta Delta partook in Phi Theta Kappa Awareness week by letting their creativity flow! Rocks were painted and designed to represent Phi Theta Kappa as an intricate club who loves to get their campus involved.
All 53 rocks were hidden around the CVCC campus. One special rock, the Golden Opportunity, gave the student who found it a scholarship to cover Phi Theta Kappa International dues. Great job Mason Stimpson for finding the Golden Opportunity rock!
Sarah Moses, vice president