Turfgrass Management
Graduates qualify for employment with nurseries, garden centers, greenhouses, landscape operations, parks, golf courses, sports complexes, and turf maintenance companies.
Turfgrass Management Technology will prepare you for jobs maintaining lawns, golf courses, parks, and other recreational grounds. Students learn how to select, establish, maintain, and manage the right grasses for specific uses. Students will learn about warm and cool season grasses and how to control weeds, insects, and diseases. Students also learn about construction and renovation of golf courses.
During the summer, work on a golf course or other approved recreational facility under the supervision of a turf professional and college instructor. Receive hands-on experience as a co-op student. Many students are offered full-time positions after graduation.
Upon graduation, some of graduates start their own business, while most work for businesses in the turfgrass industry.
Some graduates continue their education at a four-year institution, such as Penn State University (PSU), where they can earn a bachelor's degree or higher in turfgrass management.

CVCC and PSU have developed an articulation agreement that allows many of the CVCC Turfgrass courses and general education courses to transfer to PSU. Graduates of CVCC's Turfgrass program may be able to finish a bachelor's degree at PSU in Turfgrass Management in two more years via their World Campus online. Visit Penn State University to learn more.
Course work includes plant identification, pest management, plant science and soil science. Also included are courses in sustainable plant production and management, landscaping, and the operation of horticulture businesses.
Graduates should qualify for employment in a variety of positions associated with nurseries, garden centers, greenhouses, landscape operations, governmental agencies/parks, golf courses, sports complexes, highway vegetation, turf maintenance companies, and private and public gardens. Graduates should also be prepared to take the North Carolina Pesticide Applicator's Examination and/or the North Carolina Certified Plant Professional Examination.
The Turfgrass Management Technology program focuses on turfgrasses and related groundcover plants and prepares individuals to develop ornamental or recreational grasses and related products; plant, transplant, and manage grassed areas; and to produce and store turf used for transplantation. Potential course work includes instruction in applicable plant sciences, genetics of grasses, turf science, use analysis, turf management, and related economics.
Turfgrass offers online internet classes.
 Turfgrass: TRF 110 Introduction to Turfgrass
To explore scholarship options, please download and complete this application.
Program Information
Program Options
Program Options
Turfgrass Management Technology, AAS
Turfgrass Management Technology Diploma
Turfgrass Management Technology Certificate
Turfgrass Management Technology High School Pathway Certificate
Please see the catalog for more information about the degree option in this curriculum.
Related Programs
Related Programs
Information
Information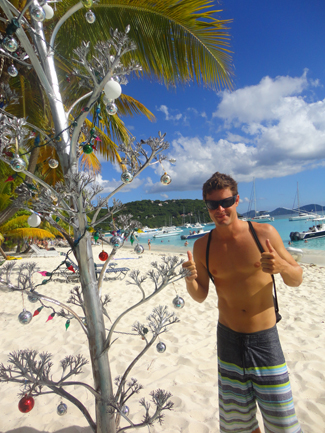 Turfgrass Tech Alumni, Jaman Spake Has Dream Job!
Spake now manages a golf course he helped develop in the British Virgin Islands. Who could have dreamed he would have a job steps from the beach? It all started with a degree from CVCC.
Read more about Jaman's Dream as a Turfgrass Manager.
Career Outlook
Turfgrass Management: Career Outlook
Turfgrass Management Instructor
Environmental & Vocational Programs
Email: Jordan Phillips
Phone: 828-327-7000 x4250
Office Number: ELS 707