REDHAWK PUBLICATIONS AND CATAWBA FARMS FALL BOOK FAIR ON SATURDAY, OCT. 30TH
CVCC Redhawk Publications and Catawba Farms will be holding a Fall Book Fair this Saturday, Oct. 30th from 12 Noon – 6pm
08/02/2021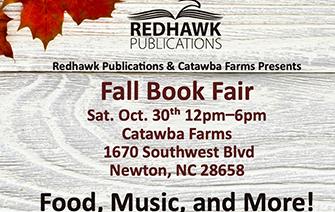 There will be food, music, and more. The book fair will include 19 of Redhawk Publications talented writers, including an hour of storytelling and Halloween treats by children's book authors! Attendees will also be able to enjoy a performance from the CVCC jazz ensembles, and there will be food trucks and Catawba Farms beverages available for purchase.
Catawba Farms is located on 1670 Southwest Blvd, Newton NC 28658
For more information about CVCC Redhawk Publications, contact Robert Canipe at 828-327-7000, ext 4380, or email rcanipe@cvcc.edu.
# # #