SolidWorks
SolidWorks course introduces participants to learn a 3D software tool to create and design products that can be used by engineers, designers, and other technology professionals.
CVCC's Corporate Development Center provides both introductory and intermediate level instruction in SolidWorks - a solid modeling computer-aided design (CAD) and computer-aided engineering (CAE) computer program that runs on Microsoft Windows.
SolidWorks is used by over two million engineers and designers at more than 165,000 companies worldwide.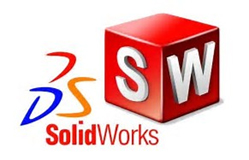 The classes are 36 hours each and take place two evenings a week from 6:00 PM-9:00 PM. The cost for the Introduction to SolidWorks class is $300 plus books. The cost for the Intermediate SolidWorks class is $300 plus books. The classes are scheduled on an alternating semester basis.
CLASS OFFERING 
» View Course Schedules for dates.
Contact Information
For more information or information on upcoming classes, contact us at (828) 327-7000, ext. 4294