Educational Experiences
Students of African-American History may participate in educational trips
Would you like to participate in the Educational Experiences? If so, take African-American History and enjoy a life changing experience.
2019 Trip to Alabama - Tuskegee, Montgomery, and Selma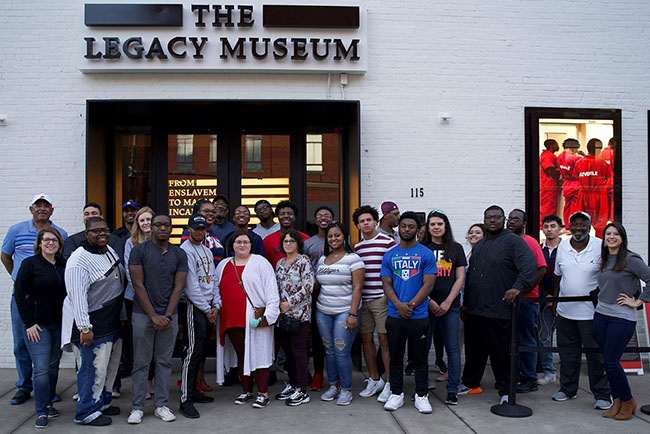 Catawba Valley Community College's Hands On History initiative recently took students to Selma, Alabama, to experience the anniversary of the Selma-to-Montgomery March for voting rights.
Students from Bladen Community College, Davidson Community College and Isothermal Community College accompanied them.
In 1965, some 600 civil rights marchers headed east out of Selma on US Route 80. They got only as far as the Edmund Pettus Bridge six blocks away, where state and local lawmen attacked them with billy clubs and tear gas and drove them back into Selma.
To commemorate 400 years since slavery, the students laid on the Edmund Pettus Bridge to observe 40 seconds of silence.
Students attended the Foot Soldiers Breakfast in Selma where individuals who marched with Dr. Martin Luther King in "Bloody Sunday" shared their memories.
The experience included a visit to The National Memorial for Peace and Justice as well as the Legacy Museum in Birmingham, Ala., which opened last year. Located on the site of a former warehouse where black people were enslaved, the Legacy Museum displays the history of slavery and racism in America. A life-changing experience for the students, they learned about slavery, racial suppression, and mass incarceration of minorities in the United States.
Students toured the Tuskegee Airman National History Site, the training site for the first African-American pilots. At the Tuskegee History Center, Fred D. Gray, attorney for Rosa Parks and Dr. Martin Luther King, spoke to students and encouraged them to break down laws of segregation. He then autographed books.
Students participated in the Student Leadership Conference at Wallace Community College in Selma and attended a community mass meeting at Tabernacle Baptist Church.
They visited the Southern Poverty Law Center, Rosa Parks Museum at Troy University and the Capital Building in Montgomery, Alabama. They visited the Birmingham Civil Rights Institute and Sixteenth Street Baptist Church in Birmingham, Alabama.
Under the direction of CVCC History Professor and Historical Association of Catawba County Historian-in-Residence Richard Eller, the Hands On History program provides students with educational experiences that take them to historical sites and museum. This opportunity was coordinated by the Office of Multicultural Affairs.
The travel study experience was funded by numerous private donations made to the CVCC Foundation, Inc.
Historical Sites Explored
Museums and Historical Sites:
National Memorial for Peace and Justice
The Legacy Museum
Tuskegee Airmen National Historic Site
Tuskegee History Center
Wallace Community College- Selma
Tabernacle Baptist Church: Mass Meeting
Viola Liuzzo's Mile Marker
Rosa Park Museum at Troy University
Southern Poverty Law Center and Memorial
Montgomery Capital Building
Birmingham Civil Rights Institute
Edmund Pettus Bridge

Find us on Facebook!
Contact Information
Coordinator, Office for Student Equity & Engagement
Diversity & Engagement
Email: Ron Carson
Phone: 828-327-7000 x4571
Office Number: SC 414